Tello Mobile Offering Phone And Plan Bundle Deals, Starting At $69 For Moto E4 With 1GB LTE Data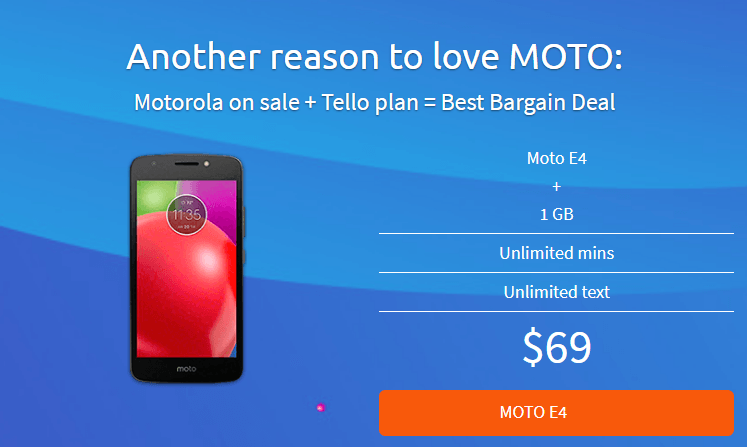 Tello Mobile has launched a new promotion revolving around some Motorola phones bundled together with one month service plans.  The phones being offered include a Motorola G6 Play for $149, a Moto E4 for $69 and a Moto E5 Play for $119.  The included phone plan that comes with each phone purchase is for one month of service with unlimited talk, text, and data with the first 1GB of data at 4G LTE data speeds.  It also includes mobile hotspot and unlimited calling to Mexico, Canada, and China. The plan is regularly billed at a rate of $14/month plus tax.  All phones being sold are 16GB models with 2GB of RAM.  The Moto E4 is a refurbished model but the other two are sold as new.
Tello Mobile normally lists the Moto G6 Play for $199, so the bundled deal would save you $64 over the cost of purchasing the phone and plan separately from the Sprint MVNO.  The refurbished Moto E4 is sold for $119, a savings of $64 with the bundle deal, and the Moto E5 Play for $149, a savings of $44 with the bundle.
All Tello phones are sold unlocked.  So if you want to purchase one of the phones and use it elsewhere, you can. The sale is scheduled to last until 5/1/2019.
Whether or not the phone with plan bundles can be considered a good deal may depend on the day and week.   Best Buy currently has a Moto E4 on sale for $49.99, although several reviewers claim to their surprise the device they purchased was used. Amazon is currently selling it for $129.99. The 32GB Moto G6 Play is available at Best Buy for $169.99, while it's available at Amazon for the same price. The 16GB model which Tello is offering doesn't seem to be available at major retailers like Amazon or Best Buy anymore.  The Moto E5 Play is available at Best Buy for $129.99 and Amazon for $89.99 for the Prime Member Exclusive version. The Amazon version may be locked from usage on Sprint and Verizon based providers. So these are the deals you may want to compare against Tello's before making a purchase.
---
---