Tello Mobile Doubles Data On $39 Plan To Include 25GB Of 4G LTE Data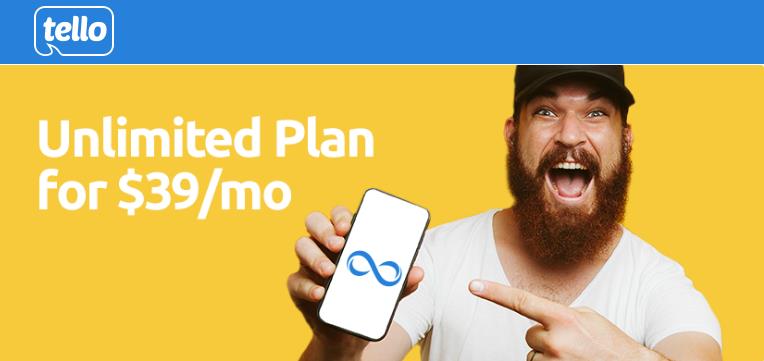 ---
Did you know BestMVNO is available to follow for free in Google News? Follow BestMVNO in your Google News app and keep up to date on wireless.
Follow BestMVNO In Google News
---
---
Tello Mobile updated its wireless plans today.  The Sprint powered MVNO has a new "unlimited plan" option.  Tello defines unlimited as being 25GB of data at 4G LTE data speeds before throttling to 2G data speeds.  I'm not sure why Tello is referring to this new plan option as unlimited, because by this definition of unlimited, all of their plans are unlimited.
The updated unlimited plan from Tello costs $39/month and also includes unlimited talk and text with mobile hotspot.  International calling to Canada, Mexico and China is included with the plan like it is with all of Tello's plans that include minutes.  Previously the plan included 12GB of data before throttling to 2G data speeds.
Tello Mobile subscribers are also allowed to build data only plans if they'd like or they can pick a data allotment of their choosing and pair it with a voice plan.  The only exception to the rule is with the new 25GB plan option.  All customers who want the 25GB data option will still have to pay $39/month for the plan whether or not they want voice minutes or not.  Previously, when the plan included 12GB of data, customers were able to pay a lower price for their plan if they didn't need unlimited minutes.
As always, no matter how a Tello plan gets configured, they all include free unlimited text messaging.  A summary of Tello's updated mobile phone plan options is shown below.  Taxes and fees cost extra.
Subscribe to BestMVNO and always be informed of the latest deals, plans and carrier promotions!
Tello Mobile's Updated Phone Plan Options
| | | | | | |
| --- | --- | --- | --- | --- | --- |
| | 0 Min | 100 Min | 300 Min | 500 Min | Unlimited |
| 0GB | | $5 | $6 | $7 | $8 |
| 500MB | $5 | $6 | $7 | $8 | $9 |
| 1GB | $6 | $7 | $8 | $9 | $10 |
| 2GB | $10 | $11 | $12 | $13 | $14 |
| 4GB | $15 | $16 | $17 | $18 | $19 |
| 6GB | $20 | $21 | $22 | $23 | $24 |
| 8GB | $25 | $26 | $27 | $28 | $29 |
| 25GB | N/A | N/A | N/A | N/A | $39 |
Editor's Take
Tello has always provided excellent value to customers that need service on the Sprint network who don't want to shell out a lump sum payment for a multi-month plan.  Only a small number of pay by the month Sprint based MVNOs can match Tello in value at the $39 and under price points.  For the most part, Tello's updated unlimited plan brings even more value to the brand.  However, I am disappointed to see that the MVNO isn't allowing customers to choose the new data plan option without unlimited talk at a lower price, as that would really help to differentiate the brand further from the competition.
For those customers unhappy with Virgin Mobile closing down, Tello may be a good alternative to being automatically migrated over to Boost Mobile.  Of course, if you are currently with Virgin Mobile, I suggest you wait at least a week before considering a port out to elsewhere.  Tello and other providers in the past have offered exclusive promotions and plans to customers affected by a provider shut down, so we may see new offers pop up in the next few days.
---
Be sure to follow BestMVNO on Twitter for additional wireless coverage, deals, insights, and even debates!
Follow @BestMVNO Twitter
---
---