Tello Lowers Prices Again, Get Unlimited Talk, Text And 2GB Of LTE Data For $19/Month
For the third time in 5 months Tello is lowering its prices. One featured plan now costs just $19/month for unlimited talk, text and data with the first 2GB at 4G LTE data speeds. Previously the plan was priced at $25/month. Additionally, the MVNO that is powered by Sprint now offers 4GB of data as a plan option.  Customers can get an unlimited plan with 4GB of high speed data for just $29/month. These are not the only changes made by Tello.  The company has reduced the costs of more than half of its plan combinations. Let's take a look at the new plan combinations and see how competitive they really are.
Tello's Updated Phone Plans
Tello offers its customers the ability to custom build their own phone plans. Subscribers get to pick the amount of minutes that they need, and then pair the minutes with one of several different allotments of data. They can build a data only plan if they so choose, or a talk only plan.  No matter what is chosen, all plans include unlimited text messaging. The ability to call Canada, Mexico and China at no extra cost is included with all voice containing plans. Data containing plans come with mobile hotspot at no extra charge.
Here's a summary of Tello's phone plan combinations with the new changes highlighted: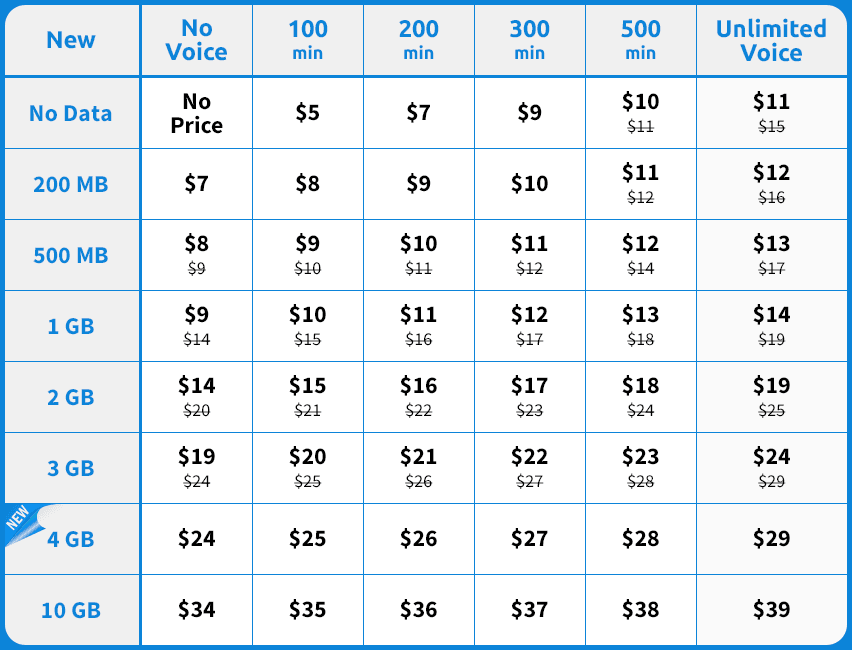 Editor's Take
The prices are lower, and some plans got significant reductions. That's a lot to like. The 2GB unlimited plan got reduced by $6!
Previous pricing wasn't that bad, but the latest changes really make the brand competitively priced.
The unlimited plans with 1GB of data or more represent some of the cheapest monthly plans on the market, if not the cheapest.  In fact all of those plans are the cheapest you can get on the Sprint network to have those data allotments. The only way to possibly get a cheaper plan is to purchase one from a provider that requires you to pay for service several months in advance. The other way may be to use a VoIP provider such as FreedomPop.
With spring just around the corner, Tello is using the change of season to market their pricing changes. Their latest marketing slogan reads:
"Spring Into Tello & Feel The Savings."
And that might just be a good idea, that is until another MVNO comes along with lower prices.
Switch To Tello Today And Save!
---
---