Tello Has Launched A Promo Allowing New Customers To Get 3-Months Of Service For $15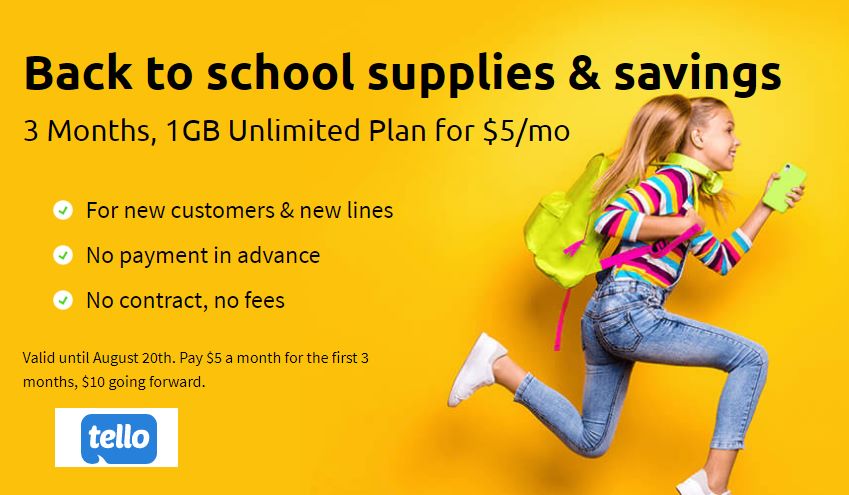 Tello Mobile has launched a new promo featuring the tagline "Tello, Your Back-To-School Buddy." The promo will give subscribers a phone plan for $5/month for their first 3-months of wireless service. The plan being offered includes unlimited talk, text, and data, with the first 1GB of data each month available at high-speeds before throttling to 2G data speeds. The offer is obviously marketed towards those headed back to school, however, the promo is available to all new Tello customers or current customers adding a new line of service.
After the 3-month promotional time period is up, subscribers will be billed at the plan's regular rate of $10/month. Customers can also elect to choose a different Tello plan once the promotional offer ends, and there are a lot of options to choose from. Some popular Tello plan options include the following:
$6/month - 100 minutes, 500MB of 4G LTE data
$10/month - 1GB of 4G LTE data
$14/month - 2GB of 4G LTE data
$19/month - 4GB of 4G LTE data
$24/month - 6GB of 4G LTE data
$29/month - 8GB of 4G LTE data
$39/month - 25GB of 4G LTE data
Unless specified otherwise, all plans highlighted include unlimited talk, text, and data with each plan's monthly high-speed data cap displayed before 2G data speeds kick in. The plans also include mobile hotspot usage and calling to Canada, Mexico, China, and Romania at no extra charge. Available international calling minutes draw from each plan's allotment of domestic minutes. Data-only plans are also available.
The promo will be available until 8/20/2020.
In order to bring a phone over to Tello, customers will need to have a device that is compatible with the former Sprint network. Although Sprint is now a part of T-Mobile, Sprint MVNO's such as Tello have yet to publicly disclose when their plans will be available for use on the T-Mobile network. Just two weeks ago, on July 22, 2020, Tello put out a blog post explaining that customers still need to have a phone compatible with Sprint if they'd like to use it with Tello. Those that don't have a compatible phone can pick up one from Tello's mobile phone store. Most devices sold in the store are unlocked and refurbished. Some of the available devices include the $119 LG Stylo 3, $249 iPhone 6s and the original iPhone SE for $199.
---
---