Tello Giving 50% Off To New And Existing Customers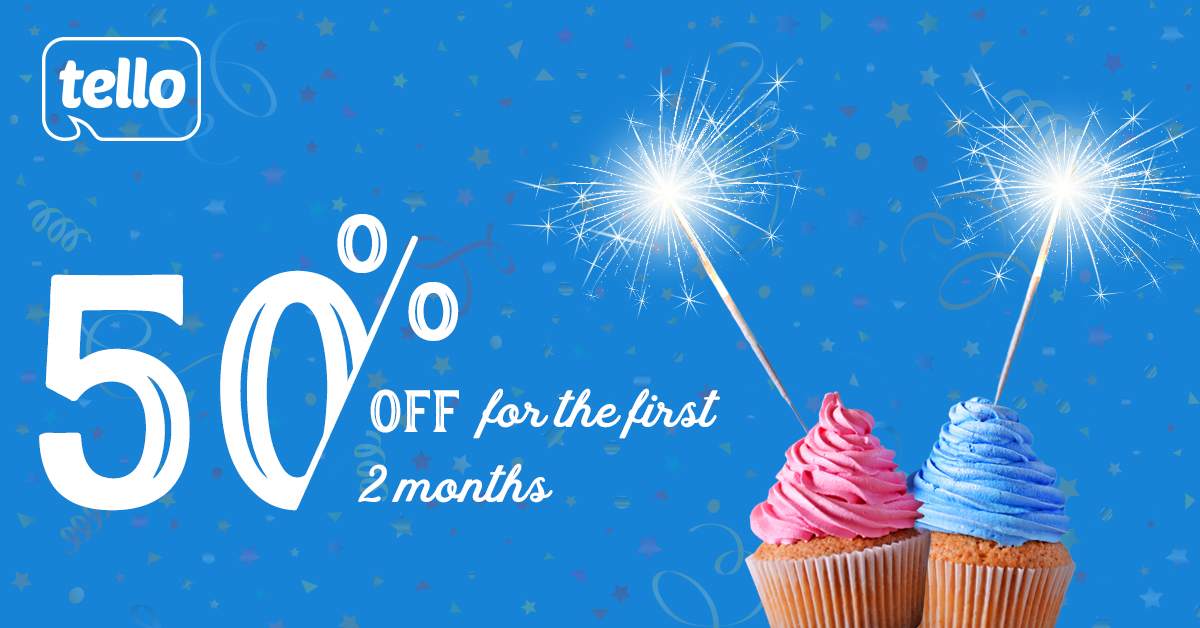 Tello is celebrating its 2 year anniversary by offering new customers 50% off of their first two months of service. Existing subscribers will also get 50% off through an offer that will be sent to the email address that is associated with their Tello account.
Additionally, Tello is running an iPhone X giveaway and a free year of service giveaway.
The Fine Print
50% Off For New Subsbribers
To be eligible for the 50% off pricing, new customers must subscribe to a Tello plan that is priced $10/month or more and stay subscribed for at least 2 months.
Finding a plan to subscribe to should be pretty easy, given that Tello offers some of the best rates in the industry as long as you don't need an unlimited LTE data plan. For instance, Tello offers an unlimited talk, text and data plan with the first 3GB at high speeds for just $24/month.  It is the cheapest place that you can get a monthly plan from on the Sprint network that offers unlimited everything with at least 3GB of data.
Tello plans also include international calling to Mexico, China and Canada and mobile hotspot/tethering.  Taxes do cost extra and vary based on your location.
To take advantage of this limited time offer, new subscribers must switch to Tello between May 3 and May 17, 2018.
50% Off For Current Subscribers
Details are sketchy on what this means.  The Tello website doesn't say anything about how many months current subscribers will get 50% off for.  All it says is to check your email for an offer.  I'm working with Tello for clarification on this matter and also waiting to receive the email myself.  Tello is going to be my next review.
Update: 5/5/18 - Tello now says that current subscribers will get 50% off for one month.
iPhone X And Free Year Of Service Giveaway
The iPhone X and free year or service appear to be two separate giveaways. Tello has not said how you can win either, but the MVNO did say you have to follow their facebook page to receive a notification and details on how to win.
Editor's Take
Tello already offers great pricing to those who don't need an unlimited LTE data plan. The 50% offer makes it even better.  What's really nice here, is that current customers won't be left totally in the dark.  That's something that happens far too often in the industry and a nice move by Tello to reward their current subscribers.
---
---