---
Did you know BestMVNO is available to follow for free in Google News? Follow BestMVNO in your Google News app and keep up to date on wireless.
Follow BestMVNO In Google News
---
At its 10th Un-carrier event today, T-Mobile announced what it has called Binge On.  With Binge On, starting this Sunday November 15, T-Mobile subscribers can stream all the HBO, Hulu, Netflix, Showtime and other video services ((Crackle, Encore, ESPN, Fox Sports, Fox Sports Go, HBO Now, HBO Go, MLB, Movieplex, NBC Sports, Sling TV, Sling Box, STARZ, T-Mobile TV, Univision Deportes, Ustream, Vessel, Vevo, Verizon Go90, AT&T DirectTV streaming service, and VUDU)) that they want without having it count against their high speed 4G LTE data cap.  Binge On is available to all current and future Simple Choice customers on qualifying plans that start at $60 and include 3GB of LTE data or more.
To sweeten the deal further, T-Mobile customers get an exclusive discount of 30% off of a year of Best of Live TV with Sling priced at $14/month.  Furthermore, unlimited LTE customers get a free movie to watch every month courtesy of VUDU.
What's particularly interesting with Binge On, just like with Music Freedom, T-Mobile is not charging content providers for inclusion into the Binge On program.  There is a catch
Be informed of the latest deals, plans and promotions from T-Mobile and every one of its MVNO's when you subscribe to the T-Mobile weekly newsletter. No spam and you can unsubscribe at any time!
T-Mobile Doubles the Data of Simple Choice Plans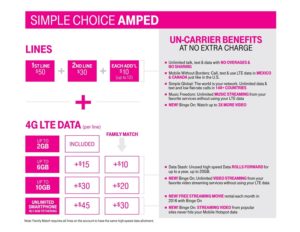 In what T-Mobile calls the biggest update ever to its Simple Choice plans, the carrier is doubling the amount of 4G LTE data offered with those plans.  The $50 plan now gets 2GB of 4G LTE data instead of 1GB.  Additional lines added to that plan will also receive double the data. Other Simple Choice plans include 6GB of data for $65 (instead of 3GB-$60), $80 for 10GB (instead of 5GB-$70), and $95 for unlimited (previously $80). The unlimited plan now includes 14GB of mobile hotspot instead of 7GB.
T-Mobile is also offering what it calls Family Match.  If everyone on the family plan wants the same amount of extra data, they can for example add an extra 4GB of 4G LTE data per line which includes mobile hotspot, for an additional $10 more per month.  Other Family Match options include 8GB of extra data per line for $20/line, and unlimited data for $30/line.  For those families who don't need extra data on every line, 4GB of extra data will cost $15/line, 8GB $30/line, and $45/line for unlimited.
Changes to the Simple Choice Plans go live on Sunday, November 15h as well.
---
---