T-Mobile Prepaid Offering Unlimited Talk, Text, 10GB 4G LTE Data For $40/Month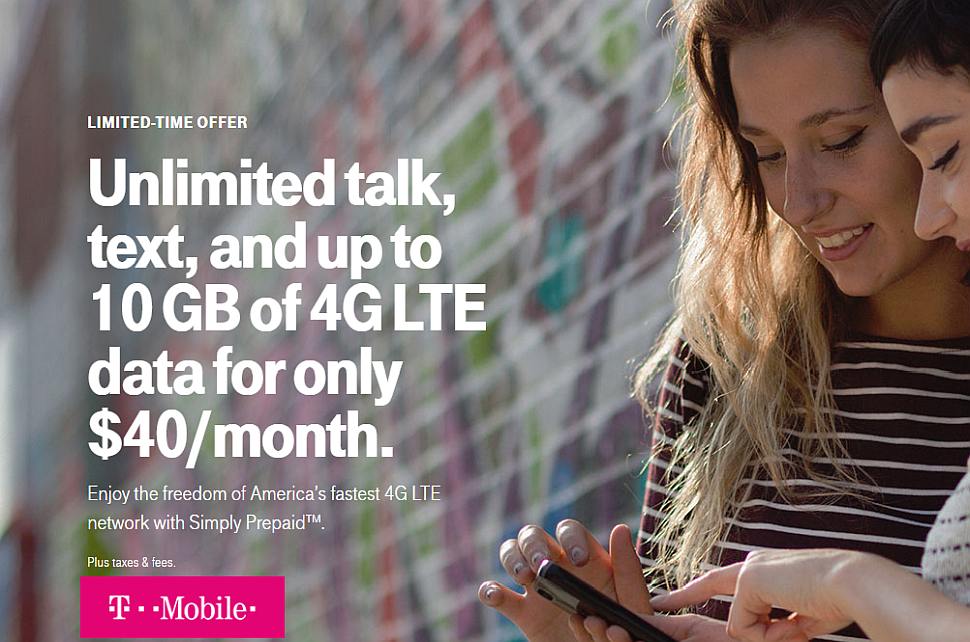 A little over a year ago, T-Mobile Prepaid launched an unlimited everything plan with the first 10GB of data at 4G LTE speeds for $50/month.  It was supposed to be a limited time offer.  The plan never really went away.  Now T-Mobile has reduced the cost of the plan to just $40/month plus taxes and fees.
This plan with its new price is still supposed to be a limited time offer that is available in stores only.  Given that the plan has been available for over one year straight, I'd take the limited time offer moniker with a grain of salt.
Besides including unlimited talk, text and data the plan also comes with WiFi calling and texting, mobile hotspot, and unlimited music streaming.  With unlimited music streaming, subscribers can stream all the audio they want and it won't count against their high speed data cap.  The following networks can be streamed without it counting against the 4G LTE data cap.
8tracks, AccuRadio, Amazon Music, Apple Music, Bandcamp, Beatport, BlackPlanet, Chilltrax, Dash Radio, DatPiff, Deezer, Digitally Imported, ESPN Radio, Fit Radio, Google Music Play, iHeartRadio, Jango, JAZZRADIO.com, KCRW, My Mixtapez, Napster, NextRadio, Noon Pacific, OHIO.FM, Pandora, PreDanz, RADIO.COM, Radio Danz, Radio Disney, Radio Paradise, radioPup, RadioTunes, ROCKRADIO.com, Saavn, SiriusXM, Slacker Radio, SMULE, SomaFM, SoundCloud, Spinrilla, Spotify, TIDAL Music, TuneIn Premium and Uforia.
Unlimited international texting is also included.  For an additional $5/month subscribers can get talk, text and data access while traveling in either Mexico or Canada.  International calling is available for an additional $15/month.
T-Mobile also offers several other prepaid plans.  You can see a comparison of them in the infographic below.
Data maximizer means compressed video.  With it enabled, T-Mobile will reduce video streaming to a resolution of about 480p.  This helps to put less strain on T-Mobile's network and will allow your high speed data to last longer.
T-Mobile has not updated the graphic to include the 10GB data plans new price.
The plan is available in store only, and may be available over the phone by calling 1-844-529-3749.
---
---