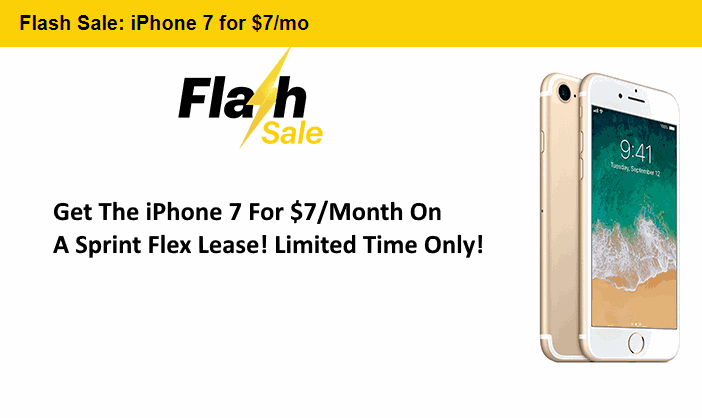 ---
Starting on August 24th, Sprint is running a flash sale on the iPhone 7.  Subscribers can get the device for just $7/month on a Sprint Flex lease.  This isn't the first time Sprint has had such an offer available.  The iPhone 8 was previously available on a lease for $8/month.  The iPhone X was available for $5/month however to get that rate a trade in was required.
The Sprint Flex lease program allows customers to lease a phone for as long as desired.  After 12 months subscribers can upgrade to the latest model.  After 18 months customers can choose to own the phone by paying one lump sum payment or by paying the remaining balance over 6 months.  If after 18 months you're not sure if you want to buy the phone you can continue to lease it.
The iPhone 7 for $7/month offer will only be available until 8/30/2018 or while supplies last.  It may make a good pairing with the $25/month Unlimited Kickback LTE data plan that Sprint also just announced as a flash sale.
The promotional rate on the iPhone 7 should be available to both new and existing customers.  However, a new line of service with the Sprint Flex lease plan will be required.
Galaxy S9 And Note 9 50% Off On Sprint Flex Lease
In addition to the iPhone 7 offering, Sprint has launched a 50% off offer on both the Samsung Galaxy S9 and Galaxy Note 9 when you get either of them on a Sprint Flex lease.
The Galaxy Note 9 will be available for $20.83/month on an 18 month Sprint Flex lease instead of its regular price of $41.67/month.
The Galaxy S9 will be available for $16.50/month instead of its regular rate of $33/month.  This offer is a downgrade from the $9/month lease that was just offered on the S9.
Both the Galaxy S9 and the Note 9 deals will only be available until 9/13/18.
Shop Sprint
---
---