Sprint Announces WatchMeGo A Wearable Device For Young Children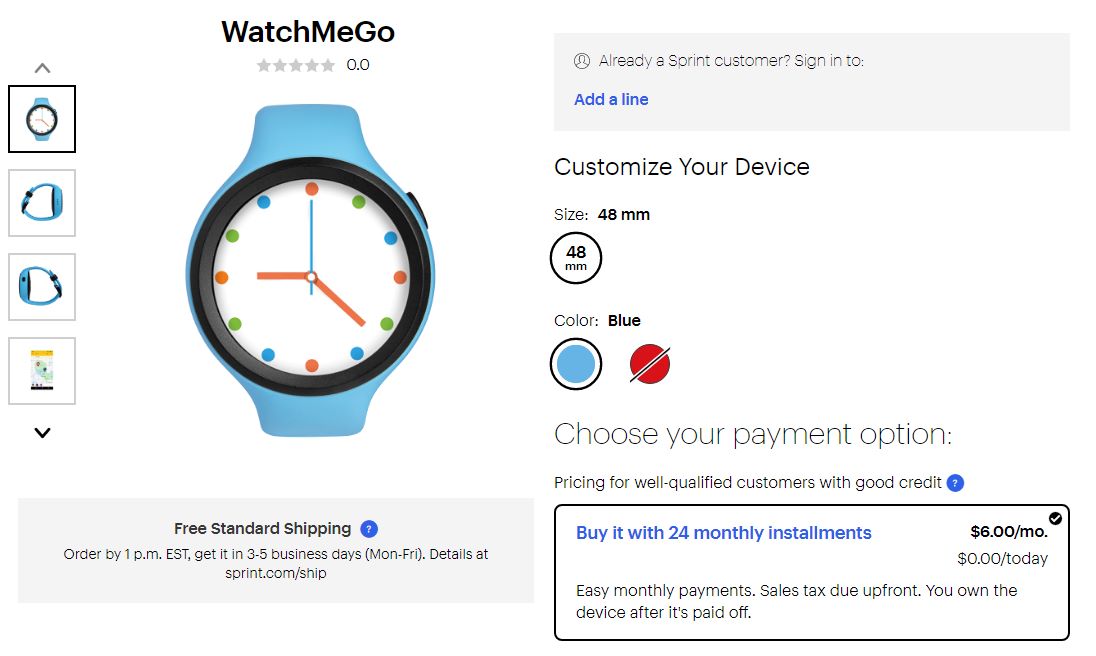 Sprint today sent out a press release to announce the launch of a new product, WatchMeGo.  WatchMeGo is a wearable device designed for children ages 4-13.  GPS is built into the watch and parents will be able to monitor their child's location through the WatchMeGo app which is available on both iOS and Android.  The app can be configured for GeoFencing so that parents can receive an alert when their child exits and enters a specific geographic location.  The child's location can be viewed on a map.  Besides location tracking, the watch also allows for text and voice messages to be sent and received.
"WatchMeGo is the perfect solution for parents with little ones who aren't yet ready for their first phone," said Doug Smith, Sprint vice president of product innovation and product marketing. "With the ability to track the location of your child almost anywhere using GPS and communicate through text or voice messages, WatchMeGo is an ideal addition to your family's connected lifestyle."
WatchMeGo Availability And Device Specifications
WatchMeGo is available today and is priced out of the gate at $144.  Customers can also pick it up for $6/month on a 24 month installment plan.  A service plan for the watch is required to enable its smart and communication features.  The service plan is priced at $10/month with AutoPay billing enabled and there is no activation fee.
The watch is being offered in at least two colors, blue and red.  The blue variant is immediately available for purchase, however, the red one is "out of stock" at the moment.  Sprint has not said what the battery life is going to be on the WatchMeGo other than it has a "long battery life."
Listed specifications and features of the device include:
Battery information : 400mAh
Bluetooth profile : 4.1
Scratch resistant touchscreen made from Gorilla Glass
Water resistant with an IP67 rating
Dimensions : 47.8mm x 16.9mm
Display : 1.39
Memory : 512MB RAM with 4 GB ROM, 1GB of storage can be used to store music
Operating system : Specialized
Processor : Arm Cortex A7 (MSM8909W) Snapdragon Wear 2100 processor
Weight : 1.8oz
SOS button to send an alert to the parent's smartphone
Clamp charger and micro USB 2.0 cable
Step counting
Stop Watch
TicTacToe
Owners of the watch can configure it to have an always-on display if they so choose.  A WatchMeGo user manual is currently available online for those who want a deeper look into how the device and its associated app will work.
Sprint is bundling the watch with a free subscription to Kidomi which is valued at $4.99/month.  Kidomi is a subscription based iOS and Android service app that provides videos, books, games and learning activities for children.  A free online demo of Kidomi is also available.
Editor's Take
Carriers and MVNOs have been seeking more ways to generate revenue besides the traditional phone and plan model.  There has been a push into wearables and connected cars.
According to Jeff Moore, Principal of Wave7 Research, "smartwatch sales have been solid at Apple stores and via postpaid carriers.  Xfinity Mobile launched sales of Apple Watches last May and carriers seem convinced that the more connected devices they activate, the lower churn will be."
Moore, however, remains much more bullish on the connected car market niche compared to the wearables segment and there are some numbers there to support that sediment.
All the major carriers have plans designed for the car.  AT&T recently stated it has 32 million cars connected to its network.  And prepaid providers are now trying to capitalize on that market segment as well.  Just a couple of months ago, Simple Mobile and Tracfone began offering Car Smart, while Metro By-T-Mobile has been pushing MetroSMART Ride.
---
---