Charter Communications To Take On Comcast With Launch Of Spectrum Mobile
Charter Communications is set to launch a new wireless service called Spectrum Mobile. The launch date is rumored to be June 30th.
Spectrum Mobile Plans, Pricing And Requirements
Spectrum Mobile will essentially offer two basic pricing models.  An unlimited data plan will cost $45/month.  A by the GB option will also be available priced at $12/GB.  Both options will include unlimited domestic talk and text and access to a nationwide network of Wi-Fi hotspots which may actually be central to the service.
Charter is likely to use its existing network of nationwide Wi-Fi hotspots to provide talk, text and data to consumers and will use Verizon's network as a fallback when Wi-Fi hotspots are unavailble.
If the pricing structure sounds familiar to you, its because it mirrors that of Comcast's Xfinity Mobile.  And just like Xfinity Mobile, in order to join Spectrum Mobile you will need to be a subscriber to Charter's internet or cable service.  This limitation likely won't hinder Charter's ability to signup customers.  Comcast was able to quickly acquire over 570,000 subscribers with the same limitation in place.  It is now probably one of the larger MVNO's by subscriber count on the market.
If we can further apply Xfinity Mobile's pricing model to Spectrum, we can infer that Spectrum Mobile's $45 unlimited data plan will actually be limited to 20GB of high speed data.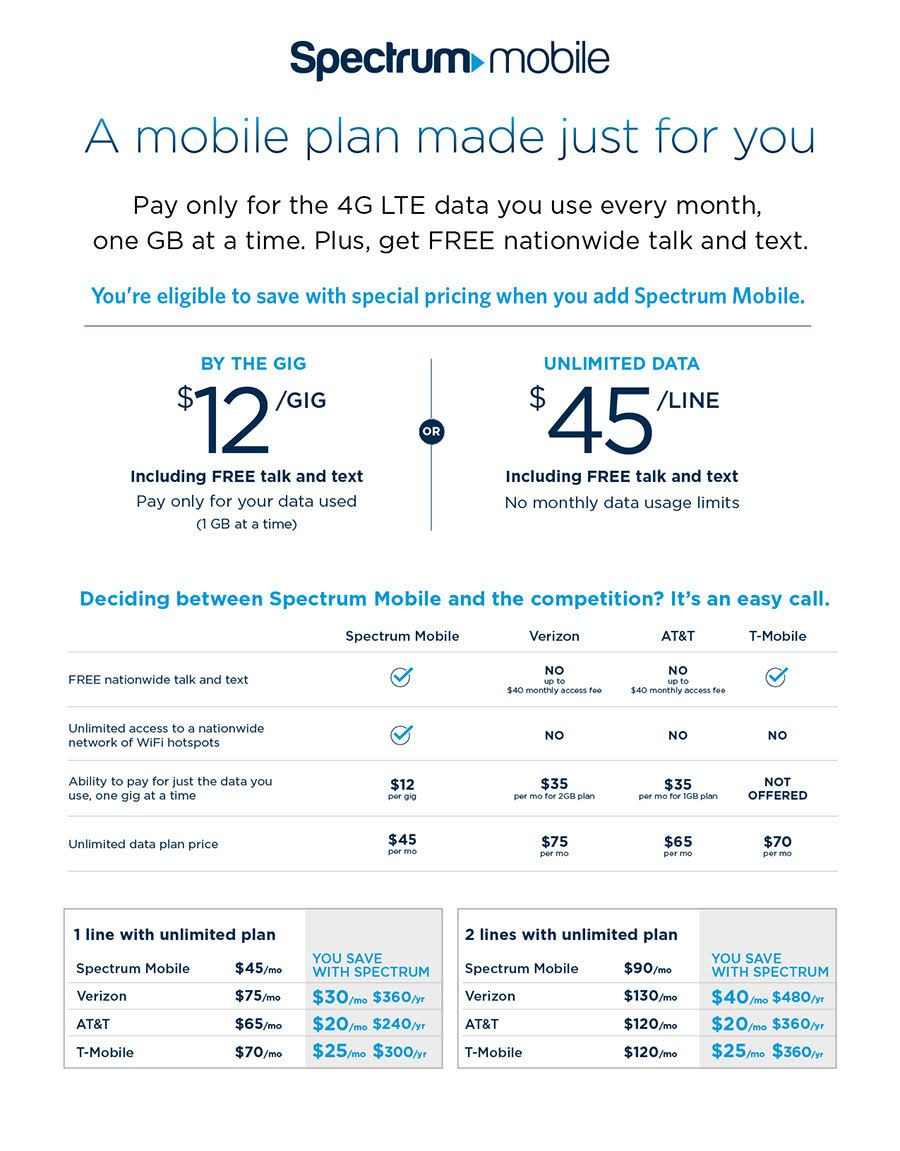 Device Availability
At this time it is unknown if Spectrum Mobile will support BYOD or what devices it will make available for purchase.  What we do know about plans and pricing were actually obtained from a survey that Charter sent out to its customers to gauge their potential interest in the wireless service.  The same survey also said that it will have "the hottest and most popular phones" available.  This will likely mean a heavy dose of offerings from Samsung and Apple.
More Than Just An MVNO?
Besides becoming another MVNO, Charter may actually have aspirations to deploy a wireless network of its own.  The company is interested in obtaining licenses for the 3.5GHz spectrum band that could be used to deploy an LTE or 5G NR network.  The company is already said to be testing a fixed wireless solution using the 3.5GHz band in several markets.  Charter intends to transition its "nomadic Wi-Fi network" to one that supports full mobility by integrating it with multiple 4G and 5G access technologies.
Editor's Take
Another competitor such as Charter entering the MVNO arena may for now provide you with better pricing, but at the same time it could actually harm the market place.  Given how quickly Xfinity Mobile grew its subscriber count, the same thing could be expected to happen with Spectrum Mobile.  The quick growth could come at the expense of other MVNO's and even Verizon itself.  Smaller MVNO's don't have the same resources to be able to offer the type of pricing and service that Charter does.  This could knock some of the smaller mom and pop providers out of the business.  On the other hand, if Charter is able to move forward with its intended plans for the 3.5GHz band, perhaps it can become a major independent wireless carrier.
---
---