Selectel Wireless Updates Plans, Get 8GB Of 4G LTE Data For $40/Month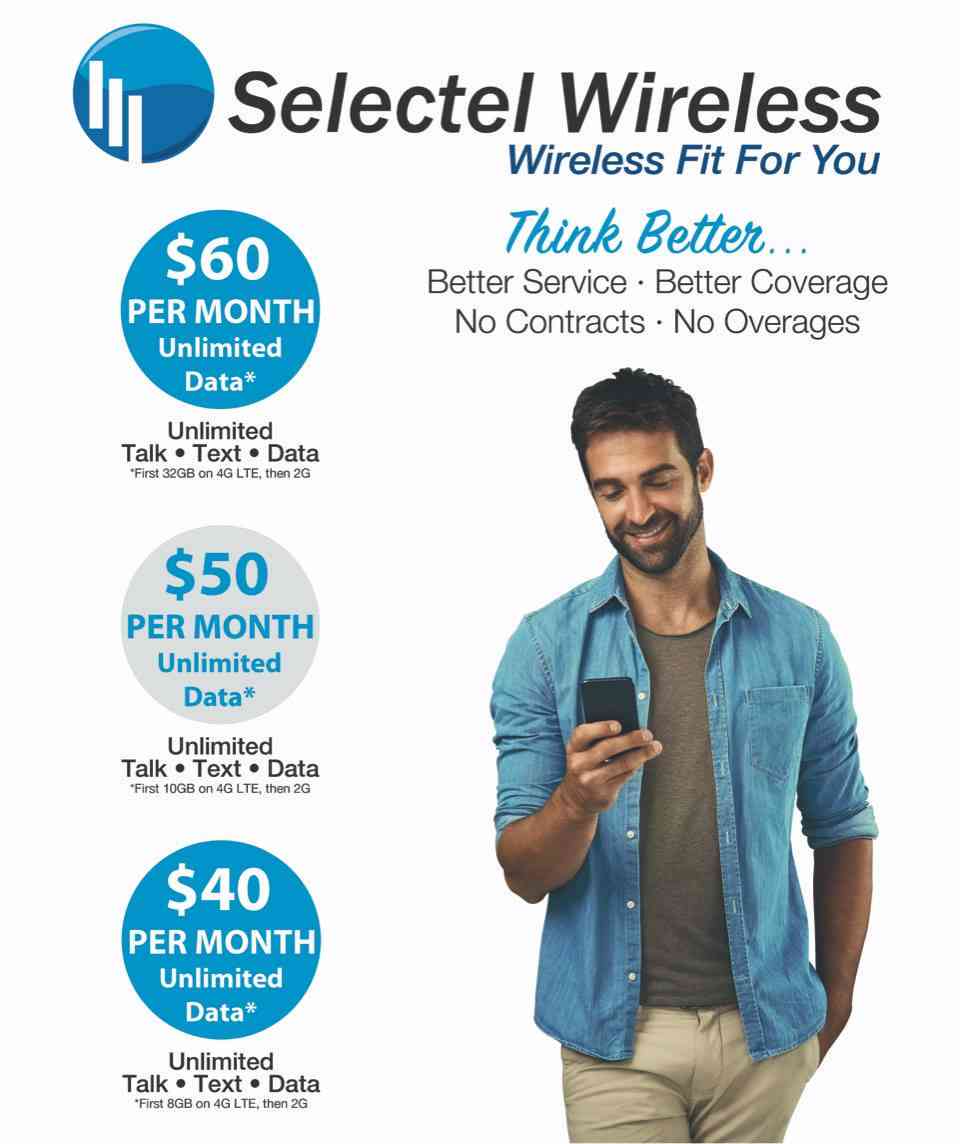 Selectel Wireless has updated a couple of its wireless plans.  The Verizon MVNO's $40 plan now includes 8GB of 4G LTE data instead of 7GB.  The $60 plan now includes 32GB of 4G LTE data up from 22GB.
Selectel Wireless's Updated Phone Plans Explained
All of Selectel Wireless's advertised phone plans include unlimited talk and text.  Mobile hotspot is also available with all plans and enabled by default for iPhones.  Those with an Android device need to contact the company to ask them to enable it.
Selectel Wireless's updated unlimited talk and text phone plan lineup is now structured as follows:
$25/month - 100MB of hard capped 4G LTE data.  Data gets shut down once the threshold gets reached
$30/month - 2GB of 4G LTE data
$40/month - 8GB of 4G LTE data, previously included 7GB
$50/month - 10GB of 4G LTE data
$60/month - 32GB of 4G LTE data, previously included 22GB
Unless specified otherwise, all of the plans listed included unlimited data at 2G data speeds once the plans 4G LTE data allotment gets used up. Taxes and fees cost extra and are not included in the prices shown.  According to a Selectel Wireless social media Facebook representative, the company is working on getting its other wireless plans updated.
Currently Available And Supported Phones
Selectel Wireless offers support for both bring your own phone customers and those that would like to purchase a phone.  The phones that the company has available for purchase aren't exactly the best phone deals around.  To my eyes, the prices seem on the expensive side.  Available devices include the following:
Samsung Galaxy S10e - $749.99
Samsung Galaxy S9 - $649.99
Samsung Galaxy S8 - $549.99
Samsung Galaxy A50 - $349.99
Samsung Galaxy A20 - $249.99
Samsung Galaxy A10e - $199.99
Motorola E6 - $149.99
ZTE Z233VL Flip Phone - $39.99
According to a company online support specialist that I had the opportunity to speak with, the phones are sold unlocked which is probably why they are on the expensive side.  The rep stated that "we do not lock any of our devices, however, we cannot guarantee our devices will work with other carriers."  So keep that in mind if you decide to purchase a device from Selectel.
Selectel Wireless Has A Free Month Of Service Offer
Customers that already have a device they'd like to use with Selectel Wireless can get a free month of service when they purchase a $9.99 BYOD SIM card kit.  The free month of service is for the $40 plan that now includes 8GB of high-speed data.  Eligible devices that can be brought to Selectel Wireless are those that are unlocked and compatible with Verizon Wireless.
---
---