Republic Wireless Discontinues Data Only Plan That Featured 20GB Of LTE Data For $30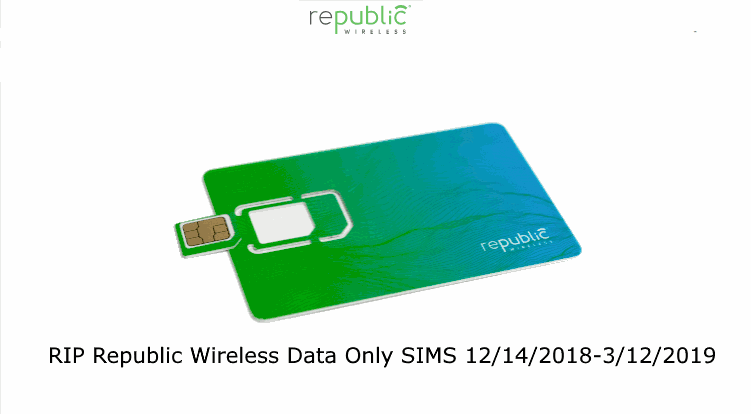 Thanks to a reader tip, BestMVNO has learned that Republic Wireless is no longer offering data only plans.  The plans were part of a pilot program launched by Republic Wireless in December of 2018.  The data only plans gave subscribers the choice of an unlimited data plan for either 30 days for $29.99 or 90 days for $74.99.  By unlimited, customers got 20GB of data at 4G LTE data speeds before throttling to 2G data speeds.  The plans were designed for use on the T-Mobile network.
The plans were structured a bit odd from the get-go.  Subscribers could not renew their plan at the end of its designated service time frame.  Instead, if they wanted to re-up, they were forced to buy a whole new SIM card.  Additionally, the SIM cards were supposed to have shipped active and ready to use, with the first day of service starting on the day it got delivered to the customer's door.
The data only plans were officially discontinued on 3/12/2019.  However, the SIM cards and plans are still being honored according to the plan's terms and the expiration date printed on the SIM card.   That means if you got a 90-day service plan and SIM card shipped to you in March, you'll still be able to use your plan in its entirety, with service ending for you sometime in June.
Unfortunately, it does not appear that Republic Wireless intends to bring back the plans.  The MVNO stated on its website, that once its current stock of SIM cards sells out, they will not be replenished.  The SIM cards were sold through Amazon and eBay and are no longer available for purchase indicating they've all sold out.
Republic Wireless 2 Month Free Promotion And New Phone Launch
In February Republic Wireless launched a promotion offering new customers two free months of service.  The offer was set to expire on 3/31/2019.  It has been extended until 6/30/2019.
Additionally, Republic Wireless has announced that it is now selling the 32GB Moto G7 Power for $249 and the 32GB Moto G7 Play for $199.  The devices are shipped and sold unlocked and financing options are available starting at $12/month with financing provided by Affirm.
---
---