Red Pocket Mobile Starter KIT And A 3 Month Plan Are Now Sold At Target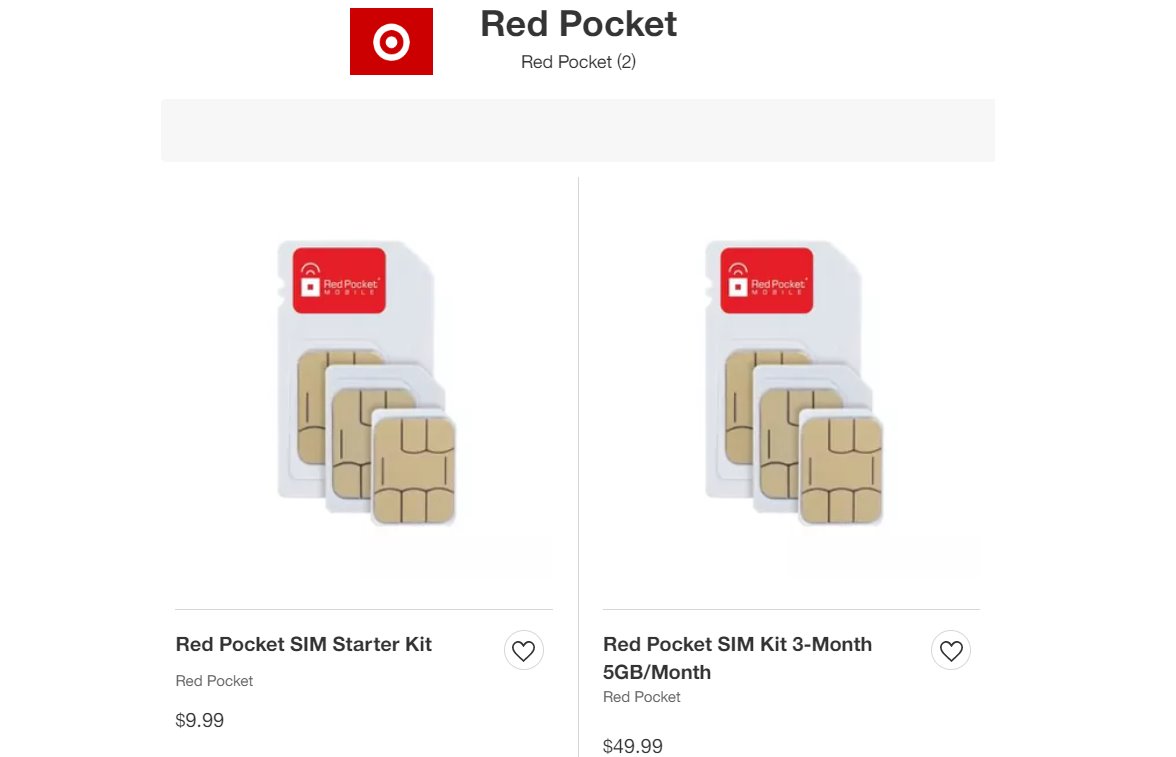 Red Pocket Mobile has joined the ranks of wireless brands carried within Target stores. Wave7 Research analysts recently observed the brand on display at several Targets across multiple states.
At the moment, the multi-carrier MVNO partner has made only two products available for purchase within the retail chain. Target shoppers can now pick up a Red Pocket Mobile SIM starter kit for $9.99 which allows them to later subscribe to any Red Pocket Mobile plan. Also available is a SIM Kit featuring a 3-month plan with unlimited everything including the first 5GB of data each month at high-speeds for $49.99. That works out to an average cost of just $16.67/month. Both the SIM starter kit and the 3-month plan are also now available for purchase online through Target.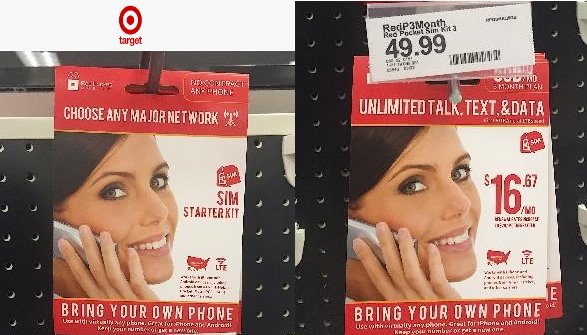 Red Pocket Mobile is advertising to Target shoppers that its 3-month plan "works with iPhone and Android devices, including phones from AT&T, Cricket and other carriers." Unfortunately, Red Pocket has not identified all the networks the plan may be used with which may be a cause for some confusion among potential customers. However, the mention of AT&T and Cricket on the plan's packaging suggests that Red Pocket is courting customers that currently use either of those two brands.
To date, Red Pocket's multi-month plans have only been available for purchase exclusively either through eBay or Amazon. It is not clear if the SIM sold at Target is based on a similar structured plan sold through eBay. The similarly structured eBay plan is an annual plan currently available for $209.99 or an average cost of $17.50/month. It also comes with unlimited everything and the first 5GB of data each month at high-speeds. The eBay plan works on the AT&T, Sprint and Verizon networks, so I do imagine the 3-month plan being sold at Target works on those networks as well. One thing missing from the plan's packaging at Target is a renewal rate that customers will have to pay after their 3-months of service is up. The $49.99 price tag for new customers does seem like an introductory offer. The graphics online at Target suggest it could be at least $20/month. Although subscribers could always convert to the annual eBay plan for a discount.
Update: A Red Pocket Mobile rep has confirmed to BestMVNO that the Target plan is for use on their GSMA network only. The GSMA designation is used to represent the AT&T network. The 3-month plan does renew at $60 for an additional 3-months of service.
Editor's Take
The addition of Red Pocket to Target stores is a bit surprising to me that it's taken so long. Last year Red Pocket Mobile purchased the Unreal Mobile and Freedompop brands which have been selling in the store all along. Representatives from the company have previously told BestMVNO that plans are in place to further grow the brand through expansion into more independent dealerships. The representatives were particularly enthused about their $19 unlimited everything plan with the first 3GB of data each month at high-speeds and their $30 plan with unlimited everything and the first 8GB of data at high-speeds. With the move into a major retail store and further into dealerships as well as continued selling through online outlets, Red Pocket Mobile seems determined to grow through all possible avenues.
---
---