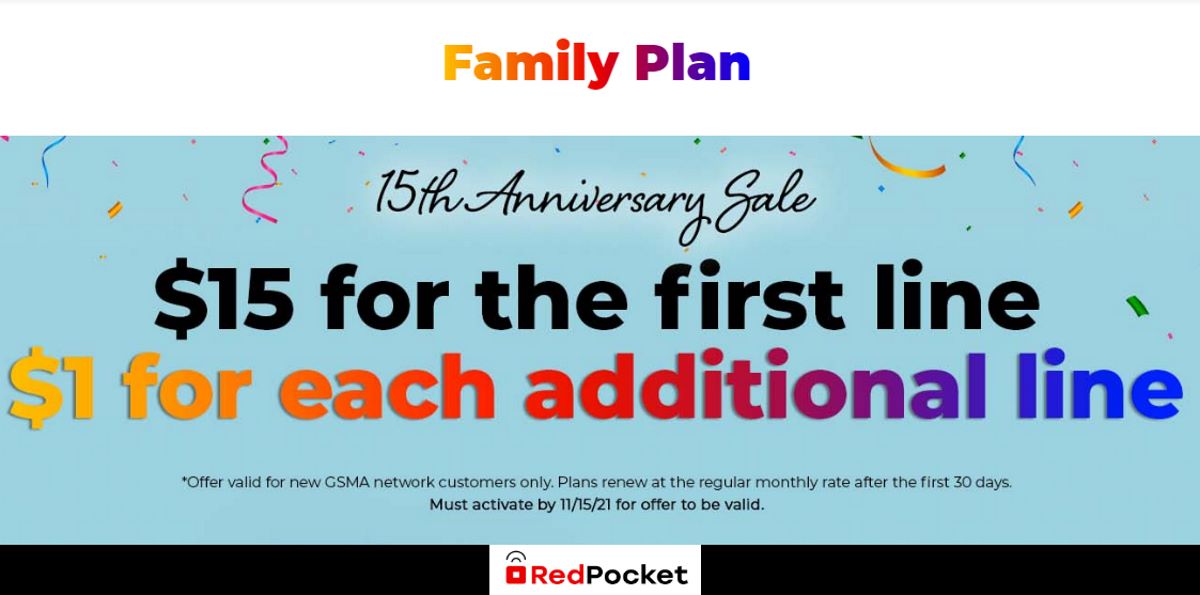 ---
Several weeks ago, Red Pocket Mobile began offering its wireless plans for 50% off to new customers. The offers are still in place. There was also an eBay sale which has since ended. Now Red Pocket has expanded its 50% off sale to include its family plan. Customers can get 50% off their first line and add a second line for just $1 for their first month of service. Red Pocket Mobile is offering the promo to celebrate its 15th anniversary.
$1 Add-A-Line Family Plan Promo Fine Print
Red Pocket Mobile has just one family plan option. It's based on the MVNO's $30 single line plan that comes with 10GB of high-speed data before throttling to 2G data speeds. Subscribers can make it a family plan by adding an additional 1-4 lines to the plan. Pricing for the family plan breaks down as follows:
Be informed of the latest deals, plans and promotions from Verizon and every one of its MVNO's when you subscribe to the Verizon weekly newsletter. No spam and you can unsubscribe at any time!
2 -lines - $50
3-lines - $70
4-lines - $90
5-lines - $110
Through this special promotional offering, customers will pay just $15 for the first line and $1 for each additional line that they need. That means for your first month of service, you can get 5 lines with 10GB of high-speed data each for just $19. After the first month is up, you'll be charged the regular plan rates described above. Besides the data allotment, the plan includes unlimited talk and text and international calling to over 80 countries. The plan is available for use on the AT&T (GSMA), Verizon (CDMA), and T-Mobile (GSMT) networks. If the plan is used on either the T-Mobile or AT&T networks it also includes free international texting. Subscribers using the Verizon network do not get free international text messaging but must add the feature as an add-on and pay 20 cents per text message. The 50% off promo with add-a-line for $1 offer is only valid for customers that signup with Red Pocket Mobile for use on the AT&T (GSMA) network. The promotional offer is scheduled to be available until 11/15/2021.
---
---