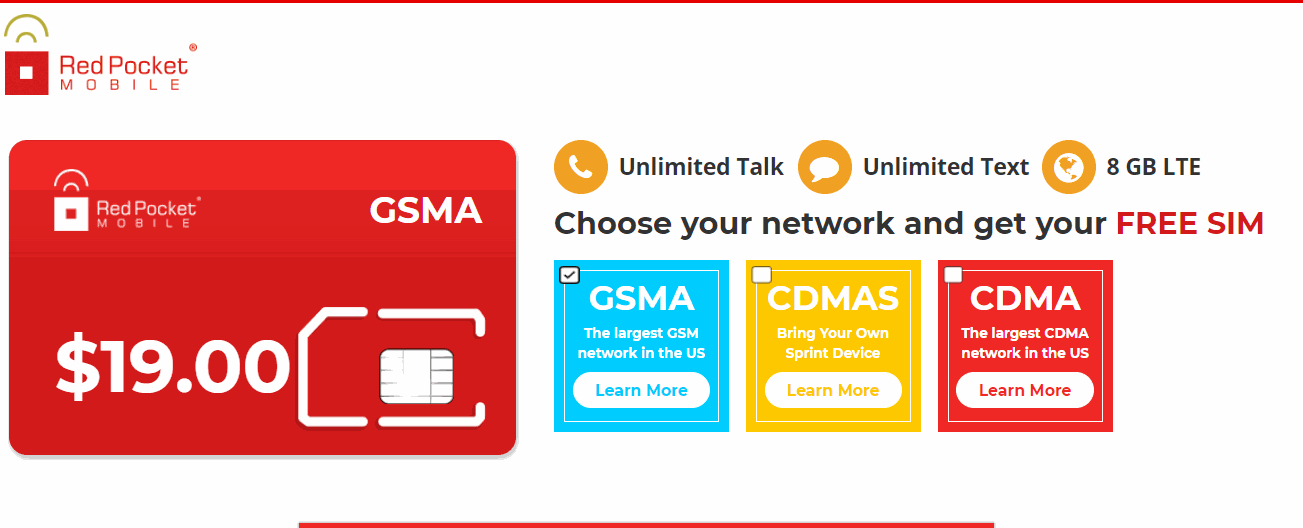 ---
Red Pocket Mobile has launched limited-time offers to help those impacted by COVID-19 stay connected.  The company is adjusting the amount of data included with several phone plans.  Their data-only plans have also been altered.
Phone Plan Specials
Red Pocket Mobile operates on all 4 major networks in the USA.  Due to contractual obligations, the company is not allowed to outright refer to most of the underlying networks by name when advertising its plans.  Instead, the plans are titled GSMA, CDMAS, CDMA, and GSMT network plans which correspond to the AT&T, Sprint, Verizon, and T-Mobile networks respectively.  The phone plan specials are limited to use on the AT&T (GSMA) and Sprint (CDMAS) networks only.
For a limited time, Red Pocket Mobile's GSMA and CDMAS network plans will come with the following options:
$15/month - 3GB high-speed data, regularly includes 1GB of data
$19/month - 8GB high-speed data, regularly includes 3GB
$30/month - 15GB high-speed data, regularly includes 7GB
$40/month - 30GB high-speed data, regularly includes 15GB
All plans include unlimited talk and text and international talk and text.  The $15 plan normally only includes 1,000 minutes.  All promotional plans will come with unlimited data with the listed amounts at high-speed before throttling to 2G data speeds.  The $15 and $19 plans do not regularly feature unlimited 2G data.
Data Only Plans
Red Pocket Mobile's data-only plans are also available with special offers.  The available limited time plan offers are priced as follows:
$25/month - 20GB of data, regularly includes 5GB
$40/month - 50GB of data, new plan that will regularly include 20GB of data
The data only plans are only available for use on the AT&T network.
Red Pocket Mobile's special offers will be available starting April 3rd, and sold exclusively through their website.
---
---