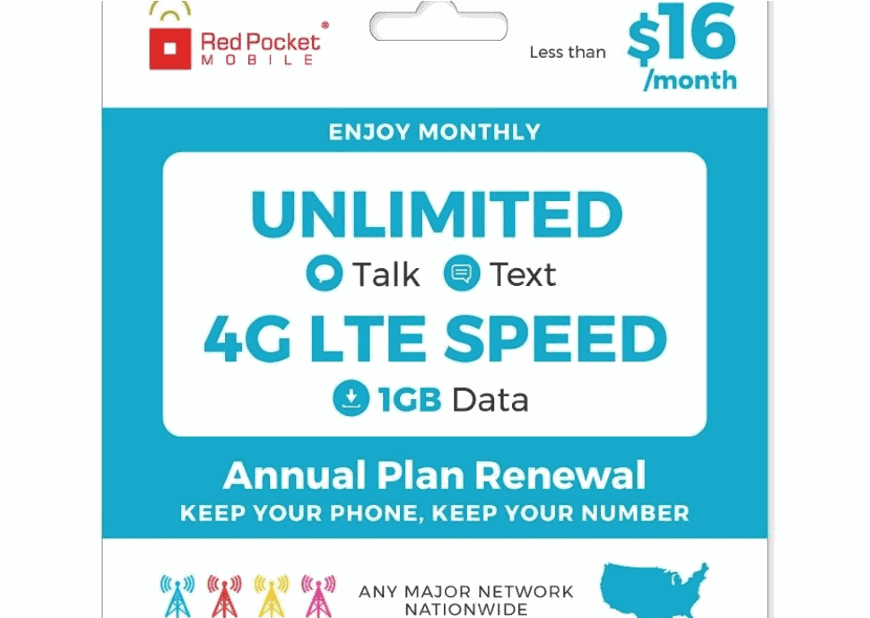 ---
Red Pocket Mobile has just launched a couple of new deals available exclusively on eBay.
Deal number 1 is for an annual plan that features monthly allotments of unlimited talk, text and 1 GB of 4G LTE data.  The plan is priced at $15.83/month, but 12 months of service must be paid for in advance which works out to a total cost of $189.99.  Red Pocket does not sell this exact plan on their website.  The closest plans that they offer are for unlimited talk and text with 500 MB of 4G LTE data each month for $19 and another plan with 1,000 minutes, 1,000 texts and 1 GB of 4G LTE data for $15/month.  Whether or not this deal is a good value to you will depend on whether or not you need unlimited talk and text as Red Pocket's $15 plan that does not require you to pay a year in advance is most comparable to this limited time eBay offer.
Don't Miss Out On More Deals Like This!
Get the next deal delivered to your inbox as soon as it's announced!
Deal number 2 is for an annual plan that features monthly allotments of 500 minutes, 500 texts and 500 MB of data at an average price of $7.50/month but must be paid for annually at a cost of $89.99.  Red Pocket sells this plan directly through their website for $10/month, however it is not offered annually and thus no discount is available unless you grab this eBay deal.   Paying for the plan annually through this eBay exclusive offer will save you $30/year vs paying for it monthly directly through the Red Pocket website.
Both deal number 1 and deal number 2 are available for use on any major network in the USA which includes AT&T, T-Mobile, Verizon and Sprint.  Both plans also include the option to top up mid month in case you run out of an allotment of talk, text or data.  Top up costs are priced at $2/month for either an additional 100 minutes, 100 texts or 100 MB of data.  A $5 top up is also available that includes 250 minutes of talk, 250 texts or 250 MB of data.
Both deal number 1 and number 2 provide great value no matter which network you use them with, although in particular they are a best value on the AT&T and Verizon networks.  You can see how Red Pocket Mobile's offers stack up to the competition by comparing their plans with what you see in this of cheap cell phone plans.
Both eBay deals will be available for 8 days only ending on 10/9/17 at 8 AM PST.
---
---