New Red Pocket Mobile Annual Plan Features 200 Monthly Minutes, 200MB Data, 1,000 Texts For $2.50/Month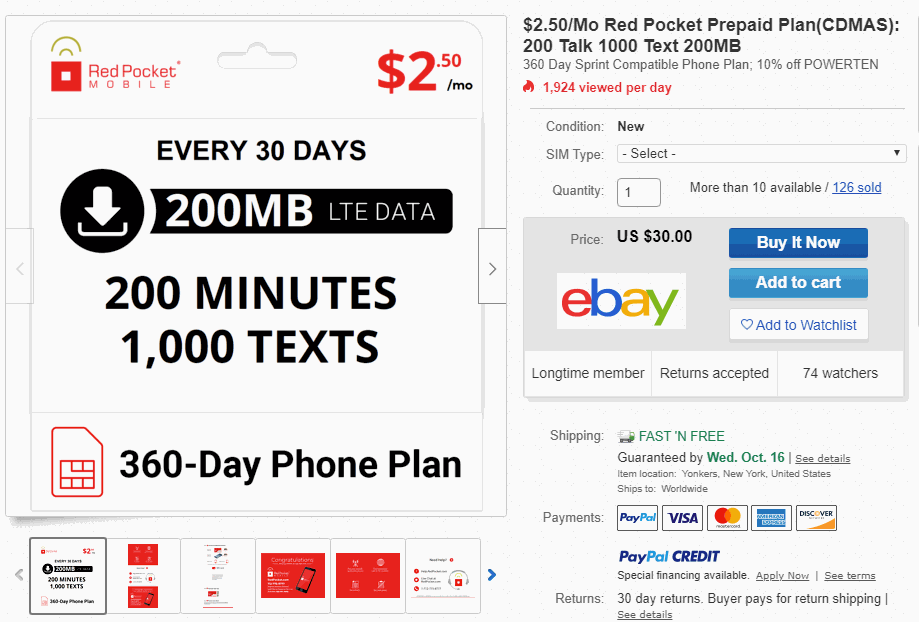 Red Pocket Mobile has launched a new annual plan.  The plan offers its subscribers monthly allotments of 200 minutes, 200MB of 4G LTE data and 1,000 text messages for a one time cost of $30 or an average price of $2.50/month.
Offer Fine Print
This plan is only available through Red Pocket Mobile's eBay store.  The plan can only be used on Red Pocket Mobile's CDMAS network.  The CDMAS network is Red Pocket's designation for the Sprint network.  To use the plan, customers must already own their own phones.  The phone needs to be compatible with the Sprint network and should be unlocked.  Boost Mobile and Virgin Mobile branded devices will not work.  To check if your phone is compatible, you can use Red Pocket Mobile's IMEI device checker located here.
Red Pocket Mobile's annual plan is for 360 days of phone service.  The plan also includes international calling to over 70 countries and international text messaging at no extra cost.  Customers that run out of talk, text, or data during a 30-day monthly plan cycle will be able to add more to their plan from the following options.
$2 - 100 minutes or 100 texts or 100 MB of 4G LTE speed data
$5 - 250 minutes or 500 texts or 250 MB of 4G LTE speed data
Top-ups do not rollover.  If a customer does not use up all of their top-ups before the next 30-day monthly plan cycle, they will lose them.
This new low-cost plan from Red Pocket Mobile is just one of many eBay exclusive plans that the company sells.  Now through until 11:59 PM Pacific Time on October 13, 2019 shoppers can save an additional 10% off their purchase when they use coupon code POWERTEN at checkout.  That lowers the price of this plan to just $27 or an average cost of $2.25/month plus tax. The coupon code can also be used to purchase other items on eBay including phones or phone plans if applicable from Google, Motorola, Samsung, Red Pocket Mobile, Tracfone and more.
---
---