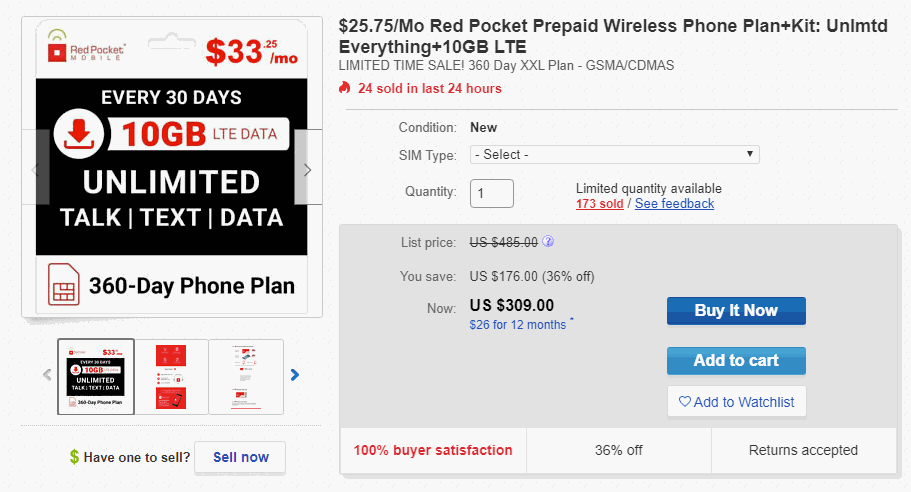 ---
Red Pocket Mobile offers several eBay exclusive phone plans.  The plans are known to go on sale from time to time, sometimes directly due to Red Pocket Mobile and other times due to eBay issuing promo codes.  The plans are not available for purchase directly through the Red Pocket Mobile website.
Right now there's a Red Pocket Mobile annual plan on sale that offers subscribers unlimited talk, text, and data with the first 10GB of data each month at 4G LTE data speeds before throttling to 2G data speeds for $309.  That works out to an average cost of $25.75/month.  Red Pocket Mobile lists the plan as regularly priced at $499, however it is normally sold for $399 or an average cost of $33.25/month.
Don't Miss Out On More Deals Like This!
Get the next deal delivered to your inbox as soon as it's announced!
This plan is good for use on the customer's choice of either the Sprint or AT&T network.  The price is the same for use on either network, however, Red Pocket Mobile did recently release a Sprint exclusive plan that appears to offer all the same features for $10 cheaper at $299.  So if you want service on the Sprint network, it's better to grab that plan.
Offer Fine Print
Red Pocket Mobile considers annual to mean 360 days so subscribers don't quite get a full year of service with the plan.  Still, it's a pretty good bargain compared to other plans in that price range.  The plan also comes with free international calling to over 70 countries regardless of which network it is being used with.  International text messaging is also included.  One thing to be aware of if you are interested in the plan is that MMS picture and group messaging will not work if you have an iPhone and want to use the plan on AT&T's network.  This is likely due to restrictions put in place by Apple.  MMS picture and group messaging will work fine on the Sprint network and it is fully supported on both networks for Android users.
Customers that run out of high-speed data during a 30-day monthly cycle can add more at a cost of $2 for an additional 100MB of 4G LTE data or $5 for 250MB.  Add-on data does not roll over to the next billing cycle.
There are currently several other Red Pocket Mobile plans on sale as well and you can view them all here.  Some of the other plans are compatible on all 4 major wireless networks in the USA, including AT&T, Sprint, Verizon and T-Mobile.  One of the other discounted plans is now $54 for 360 days of service that includes 100 minutes, 100 text messages and 500MB of 4G LTE data each month.
---
---