---
Pure TalkUSA, a long time AT&T MVNO has updated its Simple Plan to contain more talk, text and data.
The Simple Plan
The Simple Plan now contains a maximum of 300 minutes of talk, up to 900 texts, and 50 MB of data with 50 MMS picture messages for $10/month.  Previously the plan came with a maximum of  250 minutes, a maximum of 750 texts and 0 data.  It's important to note that SMS text messages actually count as 1/3 of a minute so unless you never text, you won't actually get 300 minutes of talk with this plan.
Be informed of the latest deals, plans and promotions from AT&T and every one of its MVNO's when you subscribe to the AT&T weekly newsletter. No spam and you can unsubscribe at any time!
Add-ons are also available for those that want more data or MMS.  For $9.95 you can get an additional 400 MB of data and 200 MMS.  A 1 GB data add-on for $19.90 is also available that offers an additional 400 MMS.  Those that need 1 GB of data would be better off signing up with Pure TalkUSA's unlimited plan which includes unlimited talk, text and MMS with 1 GB of data for $29.
Senior Advantage
Pure TalkUSA has also updated its Senior Advantage plan. The previous plan and current plan are identical to the Simple Plan with one difference, subscribers will earn an additional 10% in bonus minutes every month for their first 5 months of service. This means that by the 5th month you'll have 450 minutes of talk to use and for every month thereafter.
Pure TalkUSA is also running a promotion for Senior Advantage subscribers where subscribers can earn a $25 Visa gift card per referral for up to 12 referrals.
The Senior Advantage plans were designed to be an alternative to Consumer Cellular's plans which also target Seniors.  Pure TalkUSA posted the following comparison on their website: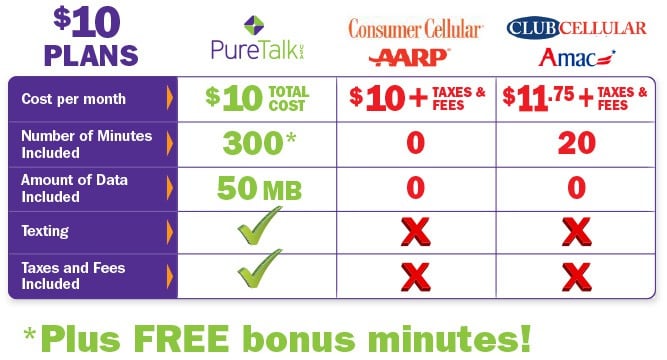 You can see how Pure TalkUSA plans compare to other wireless plans with the BestMVNO cell phone plan comparison tool.
---
---