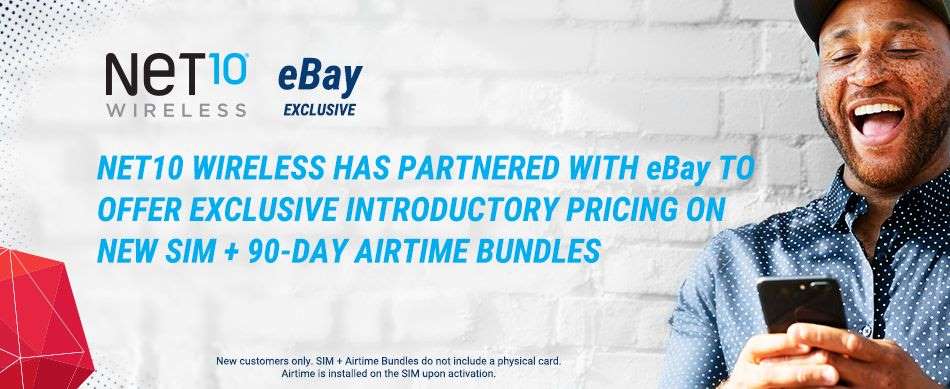 ---
Tracfone offers plans and deals exclusively through various partners. One place it has an online partnership with is eBay. Shoppers can find phone and plan deals there for several of Tracfone's brands including Net10 Wireless. One Net10 eBay exclusive offer was recently spotted by @KingOfTechDeals. Bring your own device customers can now get 90-day plans with either 4GB, 9GB, or 13GB of monthly high-speed data. The plans are available for use on the T-Mobile network.
Currently, all 90-day plans are available on sale. Here is a list of what's available:
Be informed of the latest deals, plans and promotions from Verizon and every one of its MVNO's when you subscribe to the Verizon weekly newsletter. No spam and you can unsubscribe at any time!
4GB - $29.99, renews at $45
9GB - $44.99, renews at $60
13GB - $59.99, renews at $75
All plans include unlimited talk, text, and data with the specified amount of data available at high-speeds every 30-days before throttling to 2G data speeds. Net10 has access to T-Mobile's 4G LTE and 5G networks.
The discounted rates are available to new customers only. The product listing's page does offer plan renewals at their regular rates, although at the time of this writing the 13GB renewal option is out of stock. The plans appear to have first been launched at the end of October.
Net10 says it is shipping SIM kits to customers with airtime preloaded.
Multi-month plan options continue to be a trend in the prepaid marketplace. So much so, that majors carriers have started to offer them. Last May, AT&T became the first major carrier to launch multi-month plans through its AT&T Prepaid division. A $40 plan 3-month plan was initially launched through its independent dealer channel. Later on in the year, AT&T Prepaid began to sell 90 and 180-day discount plans directly through its website. The leader in the space though continues to be one of the multi-month plan pioneers, Mint Mobile. Mint Mobile provides excellent value to consumers and has attracted a following that others such as Net10 are trying to catch up to.
---
---