Mint Mobile's New TV Ad Touts Launch At Target
In late March it was reported that Mint Mobile launched at Target. SIM cards and plans were made available in Target stores for the first time. To support the launch, some stores have begun to feature large in-store endcaps with banner advertising like the one pictured above. Now Wave7 Research is reporting that on 5/3/21, a new TV commercial launched that highlights the Target launch. Like many recent ads from the brand, it features Mint Mobile's co-owner who also happens to be well known actor Ryan Reynolds. Wave7 Research also notes a second new TV commercial was launched on 5/4. This commercials pokes fun at "Big Wireless" where Satan is seen working.
Mint Mobile's "Giving Up On Celebrities" TV Ad Announces Target Launch
The ad launched on 5/3 entitled "Giving Up On Celebrities" features Ryan Reynolds talking about giving up on trying to get every celebrity he knows to switch to Mint Mobile. He says none of them will "because they can't imagine paying $15/month for wireless, it's just too inexpensive." Ryan goes on to say he's giving up on celebs and instead is bringing Mint Mobile to Target stores across the country. You can view the full ad further down below. Mint Mobile charges $15/month for new customers trialing a 3-month plan and for those who prepay for a year of service in advance. The plan includes unlimited everything with the first 4GB of data available each month at high-speeds before throttling to 2G data speeds.
Mint's Other New TV Commercial "Dream Job" Features "Satan"
The "Dream Job" ad began airing on TV on 5/4. It's a shortened version of an ad that Mint Mobile began airing on YouTube in early April. It features "Satan" taking a job at "Big Wireless." It pokes fun at Big Wireless having poor customer service and charging high prices. Satan tells Big Wireless board members that Mint Mobile may have better prices, but they have the "prestige." The ad goes on to show that Mint Mobile has plans starting at $15/month and go up to $30 for "unlimited." Unlimited in this cased means 35GB of high-speed data each month before speeds are throttled to 2G data speeds for the rest of the billing cycle. The extended version of the commercial airing on YouTube proclaims that "Satan has been a real addition to the team. Prices are up, hold times have doubled and some fees are so hidden, we can't even find them." Watch the extended cut commercial below.
Mother's Day Phone Marketing Campaign
In addition to the the two new TV commercials, Mint Mobile also ran an unusual marketing campaign for Mother's Day. According to a Reddit thread, Mint Mobile subscribers either received text messages or emails telling them to call 1-631-MINT-MOM or 1-631-646-8666 to hear a very special message for Mother's Day from Ryan Reynolds. If you haven't heard it, the number is still active and you can call it now. It's Ryan Reynolds comedically wishing mothers a Happy Mother's Day followed by him reading "The Gingerbread Man" with another Mint Mobile related joke at the end. So if you need a break from the day, take 8 minutes to give it a listen.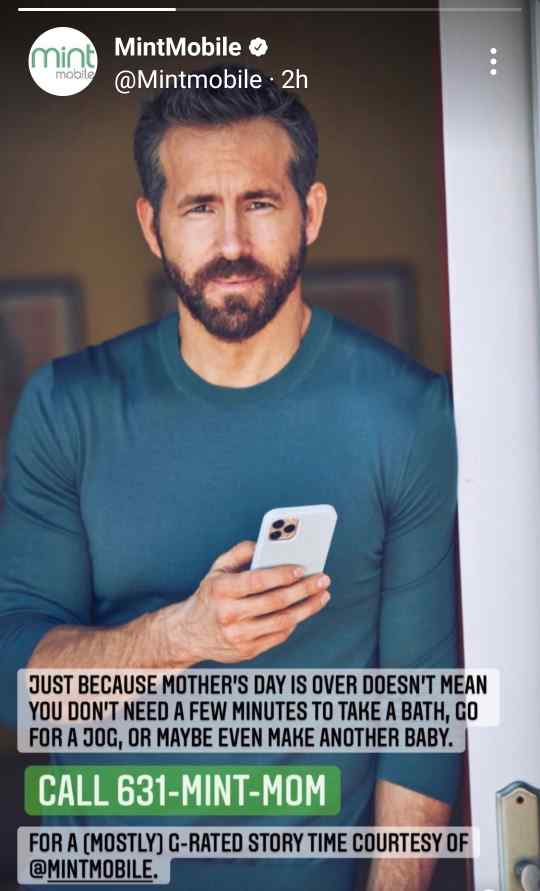 Mint Mobile's unusual and comedic viral marketing campaigns coupled with low pricing have really helped the brand to grow over the years. While subscriber counts have not been made public, the Mint Mobile play store app has been installed over 500,000 times.
Mint Mobile first launched in 2016 and operates as an MVNO on T-Mobile. In addition to being sold at Target stores, it is also carried at Best Buy. Mint Mobile launched its Best Buy partnership back in 2017.
"Mint Mobile is showing a lot of energy. This energy includes its launch at Target, creative TV advertising, viral videos, and increased visibility at Best Buy. Wireless choices are increasingly being made online, but brick-and-mortar retail is still important and Mint Mobile seems to understand that." -- Jeff Moore, Principal of Wave7 Research
---
---