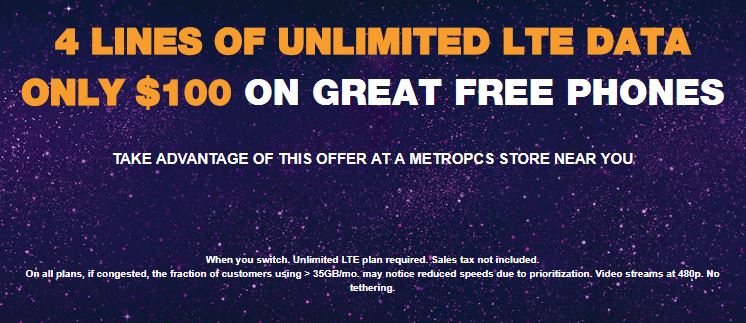 ---
For several months, MetroPCS had offered new and existing customers the ability to get 4 lines of unlimited data for $100/month. That offer disappeared earlier this month. Now the T-Mobile owned prepaid brand is offering the same promotion, except it is limited to new customers only.  Those that switch over to MetroPCS will get 4 lines of unlimited talk, text and LTE data for $100/month. All taxes and fees are included in the price except for sales tax which is extra and will vary based on location.
If you don't have 4 lines to port on over to MetroPCS, the company is still offering discounts to those with other multi-line needs.  Subscribers with 3 lines can get service for $90/month, and those with 2 lines will get it for $80/month.
Like all other unlimited data plans on the market, this one does come with some restrictions.  Video streaming on this plan is limited to just 480p and tethering is not allowed.  Those that consume more than 35GB of data in a billing cycle may see their data speeds temporarily slowed down during times of heavy network congestion.
In addition to the 4 lines for $100/month offer, MetroPCS is also giving away several free phones to switchers.  The free phones include the LG Aristo 2 regularly priced at $69, the Samsung Galaxy J3 Prime and Moto E4 which are both regularly priced at $59, and the Lg Aristo and ZTE Avid 4 which are both regularly priced at $49.  Although free, subscribers will still be responsible for paying sales taxes on each device.
All reported offers are available in store only at select locations.  Those living in Indiana are excluded from the promotional plan rates.
Possible Complications
Last time MetroPCS ran a similar promotion, a reader wrote in to me regarding some undisclosed red tape that the offer had. I'm not sure if the current promotion will have the same issues, but last time an individual told me that they weren't allowed to leave the MetroPCS store without purchasing insurance for their free phone. This made the 4 lines for $100 offer become 4 lines for $152.  The individual was however told that they could cancel the phone insurance after their first month of service.  If true, this sort of thing would not be surprising. T-Mobile had a similar requirement for the get out of the red switcher promotion that they ran earlier in 2017.
---
---