Metro Offers First Month Of Unlimited Data At $5 For BYOD, Closes More Than 2,500 Stores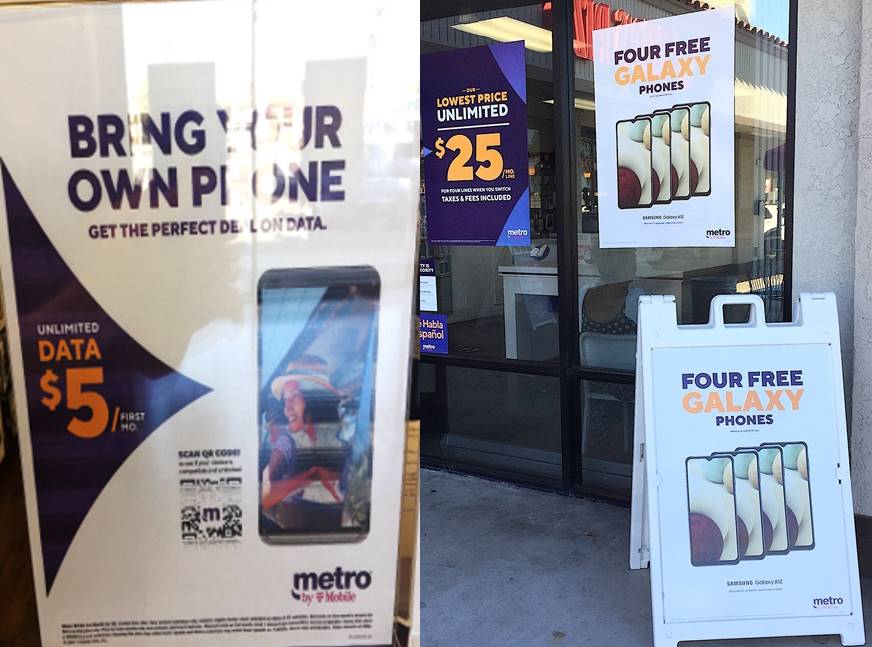 Metro by T-Mobile has a $5 bring your own device offer running. The promotion does not appear to be getting heavily marketed. The firm Wave7 Research recently reported seeing minor signage for the deal at Metro stores. No TV, radio, or online video ads have been observed promoting it. Still, Wave7 Research notes that Metro continues to dominate radio ad market share in prepaid with the continued highlighting of several other available deals. Metro ads in heavy radio promotion include its long standing offers of four unlimited lines for $100 with four free Samsung Galaxy phones, and no activation fees with some phones for switchers.
Metro's $5 BYOD Offer Details Explained
This offer is only available for new account activations. The device being brought over to the network must never have been activated on Metro before. ID validation is also required. The $5 unlimited plan offer is for the first month of service only on Metro's $50 monthly unlimited plan. After the first month, subscribers must pay the plan's regular rate.
Metro's $50 unlimited plan includes unlimited talk, text, and high-speed data. It also comes with 5GB of hotspot data and a Google One membership that includes 100GB of online storage. During times of congestion, customers that use more than 35GB of data during a billing cycle may experience reduced data speeds compared to T-Mobile postpaid customers. Videos stream at a resolution of 480p.
It is unknown how long the offer will be available for. Promotional materials just state that it's a "limited time offer." If you are interested in the offer, you'll have to head over to your local Metro by T-Mobile store to get it, although you may have to drive a little farther to find one than you once did.
Be informed of the latest deals, plans and promotions from T-Mobile and every one of its MVNO's when you subscribe to the T-Mobile weekly newsletter. No spam and you can unsubscribe at any time!
T-Mobile Has Closed Thousands Of Metro Stores
The latest prepaid report from Wave7 Research also notes that T-Mobile has closed more than 2500 Metro stores since late 2019. By comparison, AT&T has only closed a few hundred Cricket stores during that same time span.
In May of 2020, BestMVNO reported that T-Mobile would close up to 2000 Metro stores. T-Mobile did confirm at that time that it was shutting doors, but did not specify a count. The carrier said it was closing stores to eliminate redundancy and to transition some stores to T-Mobile.
T-Mobile promised that its acquisition of Sprint would lead to more jobs from day one. That has yet to materialize, at least in prepaid. The year 2020 was an exceptional one. The COVID-19 pandemic pushed consumers to spend more money online. However, T-Mobile can't use that as an excuse for shutting Metro stores down. Metro by T-Mobile still doesn't offer legitimate online sales. In April of 2020, online device sales returned for a brief time. A representative from Metro confirmed to BestMVNO at that time that online sales at Metro would be permanent and not just a temporary offering. However, Metro has since discontinued online device sales for new customers.
"All national carriers -- whether postpaid or prepaid -- have been reducing their store counts. Metro has been reducing its store count more than other carriers, as a result of 'thinning out the herd' from opening too many stores soon after Metro was acquired by T-Mobile." -- Jeff Moore, Principal of Wave7 Research
---
---