Metro by T-Mobile Offering First Month Free On 5G Home Internet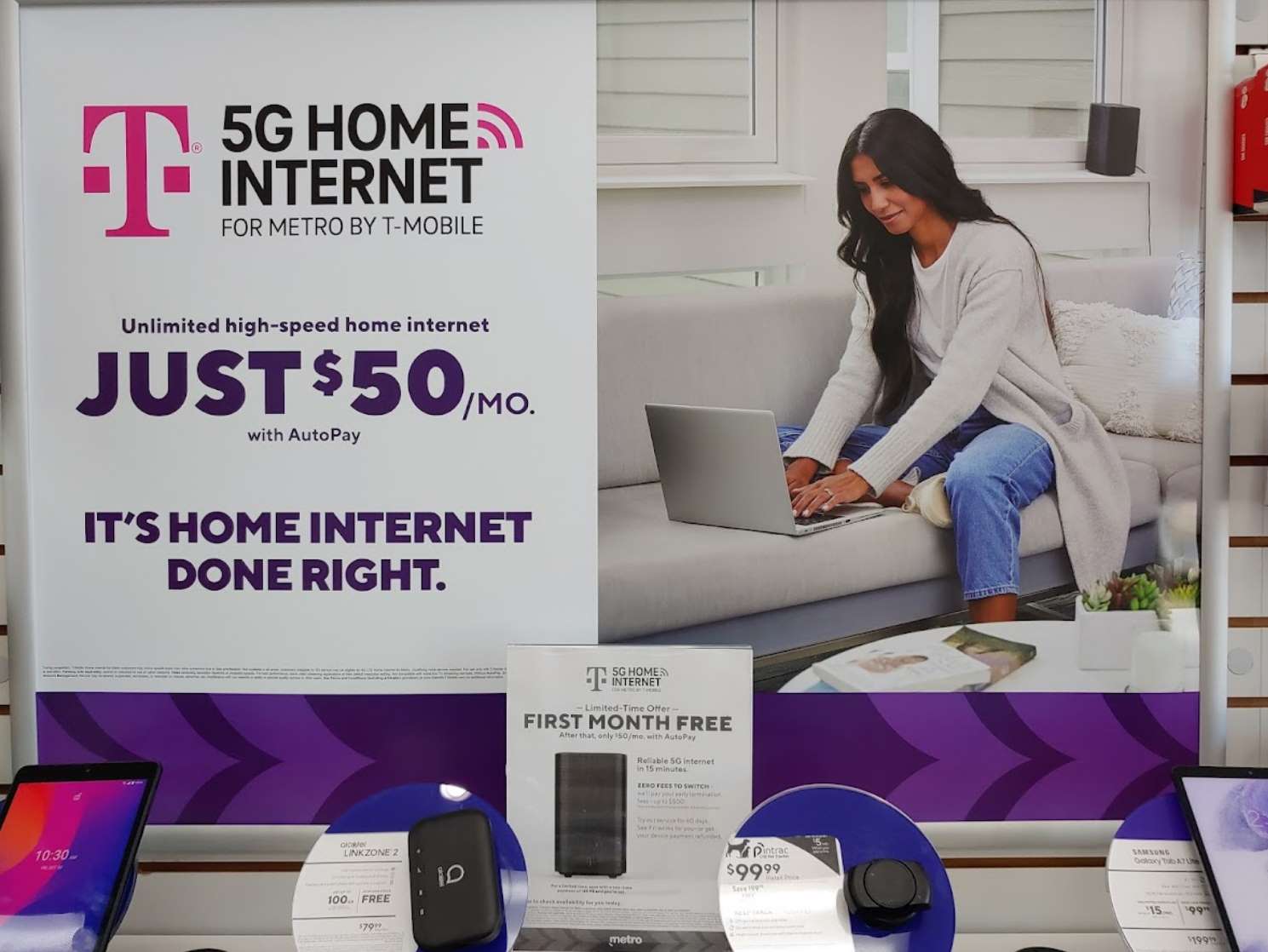 Metro by T-Mobile is offering customers a free month of T-Mobile's 5G home internet. The plan is regularly priced at $55/month or $50/month with autopay billing enabled. Wave7 Research recently observed Metro by T-Mobile stores advertising unlimited 5G home internet through in-store wall signage. The free month offer is being pitched in stores through tabletop signs and is also on the homepage of the Metro by T-Mobile website. As reported by Fierce Wireless, Metro began selling T-Mobile's 5G home internet plan in March through its 7,000 nationwide stores. The publication noted that a one-time purchase of an internet gateway for $99 would be required. Wave7 Research now reports the price of the gateway has been lowered to $49.99.
Metro by T-Mobile's Free Month Of 5G Home Internet Offer Details And Fine Print
Metro's free month of service offer does come with some red tape. The biggest drawback is that in order to get the free month, customers must add the home internet plan to a new or existing Metro by T-Mobile phone plan. Metro's phone plans start at $30/month for a plan with 5GB of high-speed data. Metro does continue to offer a limited-time promotional unlimited 5G data phone plan for $40/month to new lines and switchers.
The free home internet plan offer is available to new home internet accounts only and available only in stores. There is a limit of one free month offer allowed per household. The free month of service is provided via an instant rebate in the form of a credit against the plan's regular price. A $20 activation fee may be charged.
Metro advertises a worry-free test drive of T-Mobile's home internet plan. If subscribers find it doesn't work for them, Metro will refund the cost of the $49.99 gateway when it is returned to the store.
Zero Fees To Switch
Metro by T-Mobile is also offering customers "zero fees to switch" and will pay early termination fees of up to $500 if you are switching to T-Mobile home internet from another provider. The zero fees to switch offer requires qualifying credit. The up to $500 reimbursement for early termination fees from the customer's previous provider will be paid by way of a virtual prepaid MasterCard. The reimbursement will be sent out after the subscriber completes their third monthly payment for T-Mobile's home internet plan.
T-Mobile Home Internet Is A Low Priority Plan
Potential customers should be aware that the home internet plan is prioritized below T-Mobile's and Metro's phone and even hotspot plans. That means during times of network congestion, home internet customers may notice slower data speeds compared to those other customers.
One other thing worth noting is that Metro's free T-Mobile home internet trial offer is now in one way better than getting a free trial offer on the plan directly from T-Mobile. T-Mobile is only offering customers a free 15-day trial of the home internet plan.
"This is another sign that T-Mobile is all in on selling home Internet, with Metro by T-Mobile pitching it via its 7K stores with a first month free offer, a gateway discounted to $49.99, and new signage. T-Mobile acquired a massive amount of spectrum when it bought Sprint and this a consequence of that." -- Jeff Moore, Principal of Wave7 Research
---
---