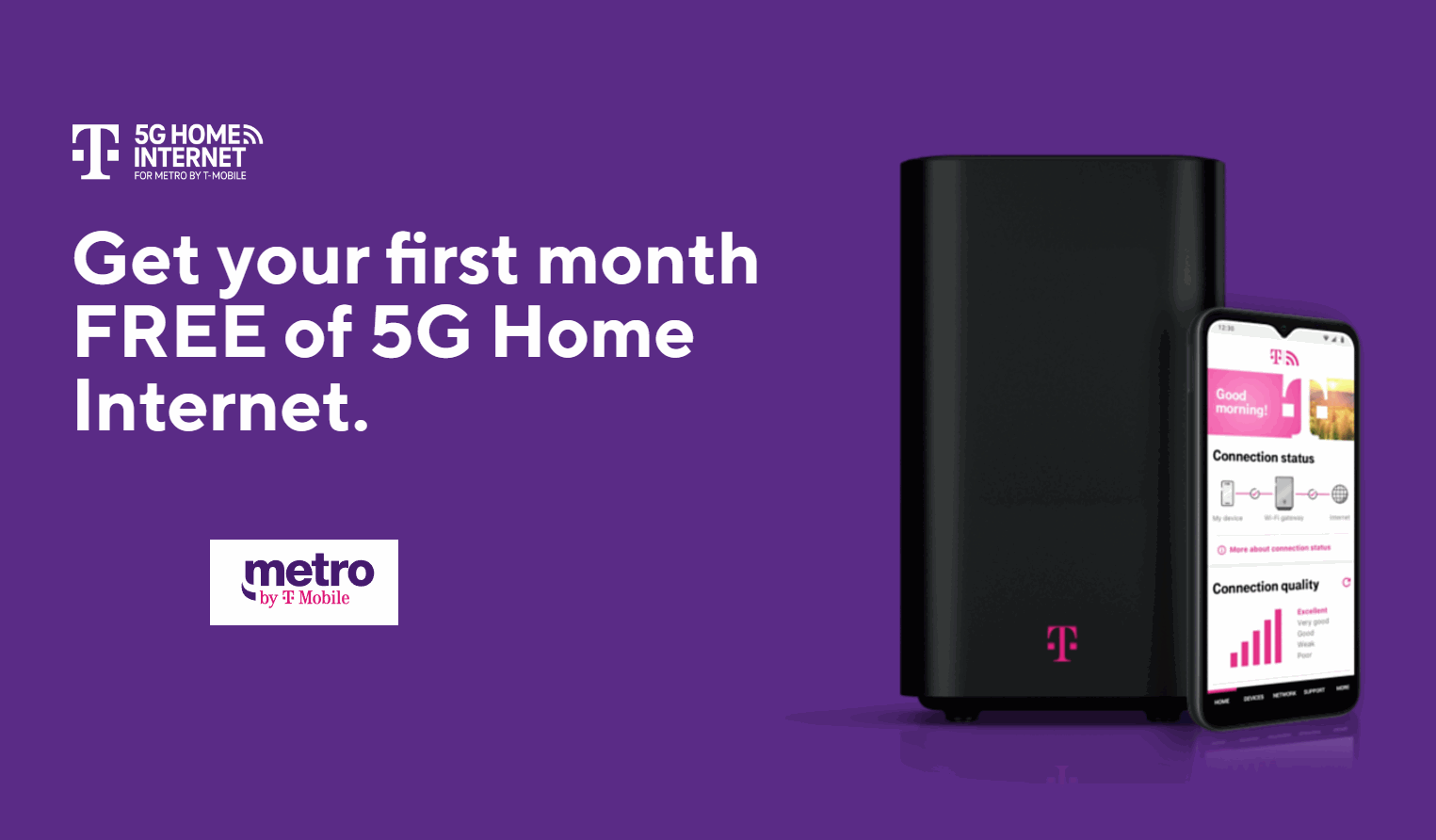 ---
Metro by T-Mobile is currently running a promo offering new customers a free month of 5G Home Internet. The free month offer comes by way of an instant rebate. The rebate will be a credit against the plan's regular rate. Metro by T-Mobile resells T-Mobile 5G Home Internet and it costs $50/month with autopay billing enabled. Without autopay billing, the price is $55/month. Taxes and fees are included in the price.
In order to get the no credit check home internet from Metro by T-Mobile, customers must also have a phone plan from the company. The offer is not for new customers. It requires customers to have an active phone plan for at least 30 days with Metro before they can subscribe to the home internet service. The availability of T-Mobile 5G Home Internet varies based on location and network capacity.
Be informed of the latest deals, plans and promotions from T-Mobile and every one of its MVNO's when you subscribe to the T-Mobile weekly newsletter. No spam and you can unsubscribe at any time!
Customers who want the service must also purchase an internet gateway for $49.99. The gateway can be returned within 60 days if you are unhappy with it. However, it cannot be unlocked for use on another network.
Interestingly, Metro by T-Mobile discloses that T-Mobile 5G Home Internet is not compatible with some live TV streaming services. However, they do not specify which services won't work.
Metro by T-Mobile began selling T-Mobile's 5G Home Internet service in March 2022. This isn't their first "free month" offer. In May 2022, Metro by T-Mobile also offered a free first month supported by heavy in-store advertising. And in mid-summer 2023, a free month of service was offered but with more options. Existing customers with 30+ days on a Metro phone plan got the first month free via the instant rebate, but new customers were offered a free month by way of a virtual prepaid Mastercard after three months of service. Those offers ended in August.
Aside from the potential problems with some live TV streaming services, there is another thing subscribers considering the service should be aware of. T-Mobile 5G Home Internet is prioritized below T-Mobile and Metro phone plans. That means when the network is busy with a lot of traffic, home internet users will notice slower data speeds compared to what they get with their phone plans.
---
---