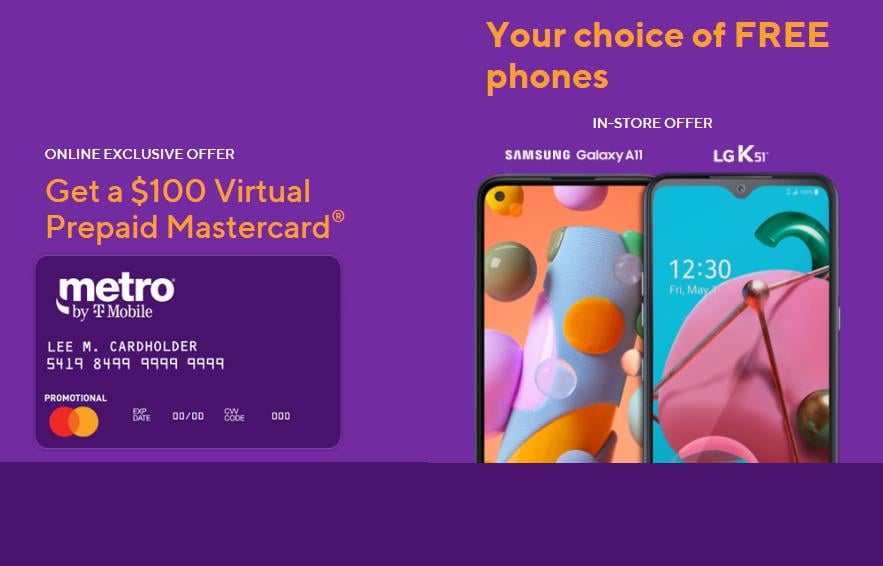 ---
Metro By T-Mobile has launched a couple of new offers. Subscribers that buy a phone online or bring one to Metro can now get a $100 Virtual Prepaid Mastercard. Also available is an offer for up to 4 free Samsung Galaxy A11s.
$100 Virtual Prepaid Mastercard Offer Explained
The $100 virtual prepaid Mastercard offer is a new customer offer available online only. It requires subscribers to either purchase a new phone directly from the Metro website or to bring their own compatible phone to the network with the purchase of a SIM kit from Metro online. In either circumstance, subscribers must activate their service online. Activations in-store won't qualify for the promotion.
After the above requirements are met, customers must stay subscribed to Metro for 75 days before the virtual gift card can be claimed. Once the time frame has passed, Metro will send a text message to qualifying customers with instructions on how to redeem their gift cards. Gift cards must be claimed within 30 days of receiving the text message. The card will be sent to subscribers after their third month of payment.
This offer replaces a previous one that gave customers that brought their own phone to the network a $50 prepaid gift card.
4 Free Samsung Galaxy A11s Offer Details
For several weeks, a deal for 4 free LG K51s was boldly featured on the Metro By T-Mobile homepage. It was paired with an offer for an unlimited LTE/5G data phone plan priced at $25/line for 4 lines. It was in-store only with a valid ID required. The offer is still available, however, it is no longer being featured on Metro's website homepage. Instead, it has been replaced with a new offer of 4 free Samsung Galaxy A11s.
To claim either free phone offer, customers must be porting into Metro. Numbers currently active on the T-Mobile network and numbers that were on Metro By T-Mobile in the past 90 days are ineligible for the offer.
The phones will be made free by way of an instant $189.99 rebate off the full retail price of each device with validation of name, address, and date of birth, and a valid ID. There is a limit of 4 instant rebates allowed per account and household. A $20 activation fee will be charged per line and sales tax may also be charged based on the phone's full retail value.
Previously, Samsung Galaxy A10es were offered for free, but the Samsung Galaxy A11 offer has taken its place.
In-store only offers for a $29.99 iPhone 7 and a $99 iPhone SE still remain in place for switchers.
---
---