Switch To H2O Wireless And Get Unlimited Talk, Text And 2 GB Of LTE Data For $27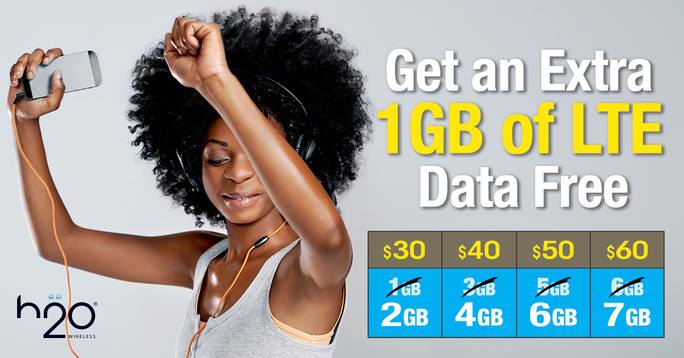 ---
Did you know BestMVNO is available to follow for free in Google News? Follow BestMVNO in your Google News app and keep up to date on wireless.
Follow BestMVNO In Google News
---
---
H2O Wireless has just launched a promotion for those who port in or activate a new line of service on a monthly unlimited plan.  The promotional offer is that an extra 1 GB of 4G LTE data will be added onto whatever monthly unlimited plan you select for a period of 3 months.  After the 3 months is up the plan will revert back to its regular data allotment amount.
H2O Wireless is an AT&T MVNO, and with the promotional offering some of H2O Wireless's plans will provide the best overall value on the market for those that require cell phone service that utilizes AT&T's network.
With the promotional offering, H2O Wireless's plans are summarized as follows:
H2O Wireless Promotional Plans
All H2O Wireless plans include unlimited talk, text, international text and talk to over 50 countries.  Their plans vary in price based on the amount of data that is included with each and by the additional international calling credit that each one provides.  The summary below highlights the differences.  All plans except for the cheapest one include unlimited but throttled data once the plans high speed data allotment is used up.
$30 ($27 with autopay) - 1 GB 2 GB data, $10 international calling credit
$40 ($36 with autopay) - 3 GB 4 GB data, $20 international calling credit
$50 ($45 with autopay) - 5 GB 6 GB data, $20 international calling credit
$60 ($54 with autopay) - 6 GB 7 GB data, $20 international calling credit
To qualify for the promotional offering you must activate your new line of service or port in by 12:00 am EST on January 31, 2017.
Shop for H2O Wireless plans and SIM cards at Walmart
---
Be sure to follow BestMVNO on Twitter for additional wireless coverage, deals, insights, and even debates!
Follow @BestMVNO Twitter
---
---