Get A Moto X4 For $249 With Activation On Fi, Purchase Two And Get $249 Service Credit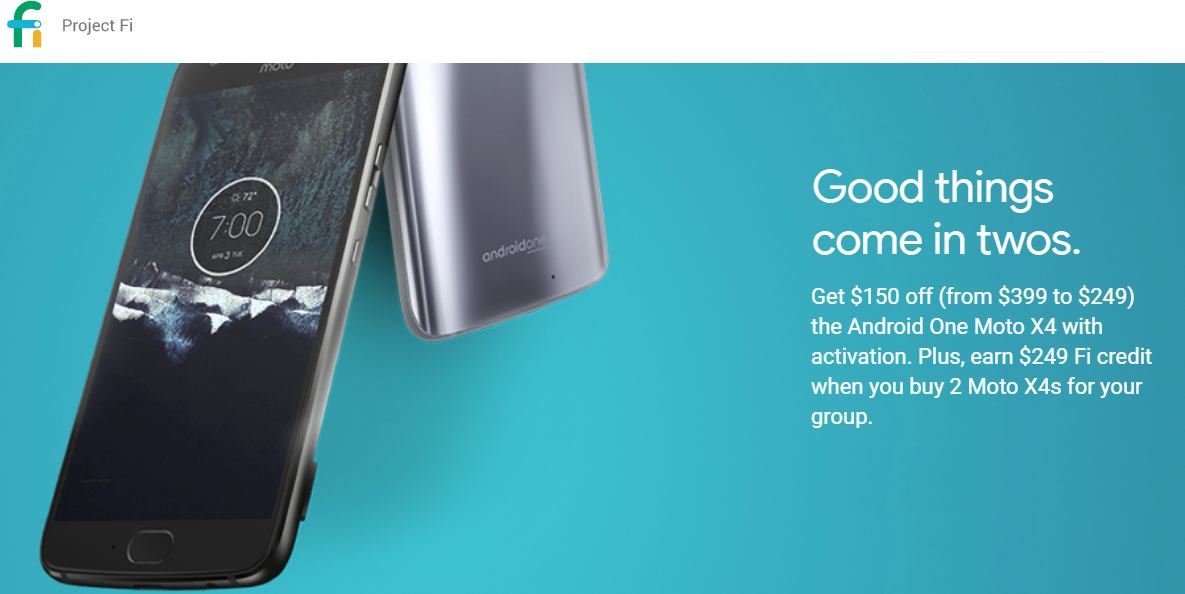 Google is currently running a couple of stellar deals on the Moto X4. Those who purchase the Moto X4 can save $100 on the device and get it for $249.  Those who purchase 2 of them will also get a $249 service credit on top of the device savings.
The Fine Print
Single Device Purchase
Google regularly prices the Motorola Moto X4 at $399.  Those who purchase one directly from https://fi.google.com will get it for just $249 as long as they activate the device on Project Fi within 30 days of device shipment. The discount gets applied to the phone immediately upon purchase, however, if it is not activated within the specified time frame, a $150 charge gets applied to the Google Payments account that was used to purchase the device. Interestingly, Google does not require the phone to be maintained on Fi for any specific amount of time in order to retain the discount. That means you can activate it with Fi, then cancel service a couple of days later and still get the discount. There is a limit of 1 discounted device allowed per customer.
This offer is valid while supplies last.
$249 Account Credit For Purchasing 2 Moto X4's
Those who purchase 2 Moto X4's on a Fi group plan can also get each one for $249.  Additionally, a $249 service credit will be applied to the Fi account owner.
The X4's must be activated by 2 users who are part of a shared Project Fi group plan. Current Fi members will need to purchase each Moto X4 separately. One user must purchase both devices, and each device must be activated within 30 days of shipment. Unlike with single line customers, subscribers on a group plan must keep their lines active on Fi for a minimum of 21 consecutive days to be eligible to receive the service credit.  A maximum of 6 Moto X4's can be purchased at a discount per group plan.
This offer is valid until May 2nd, 2018 at 11:59 pm PDT.
Project Fi Plans And Pricing
Google Project Fi phone plans start at $20/month for unlimited talk and domestic and international texting. Single line customers pay for data at a rate of $10/GB for up to 6GB of data that can be used either domestically or internationally in over 170 countries. Data charges are capped at a maximum of $60, so if you go over 6GB of high speed data usage in a month, you will still only pay $60.
Google allows a maximum of 15GB of high speed data to be consumed on a single line plan in a billing cycle, after that data speeds get reduced to 256 Kbps.
For multiple lines, Google charges $15 for each additional line added to an account. So 2 lines that only have unlimited talk and text would be priced at $35/month. Data charges on a multi-line account are also priced at $10/GB, although the pricing cap works a little bit different compared to a single line account.
Those who need multiple lines will pay a maximum of $100 for 10GB of shared data on 2 lines, $120 for 12GB of data shared between 3 lines, $140 for 14GB of data shared between 4 lines, $160 for 16GB shared between 5 lines and $180 for 18GB shared between 6 lines. Any individual line that uses more than 15GB of data in a month will have their speeds slowed for the remainder of the billing cycle without any additional charges applied.
Whether you have a single line or group plan, Google will refund you for any unused data that you have in your account at the end of your billing cycle.
Project Fi is a multi-carrier MVNO that operates on the T-Mobile, Sprint and US Cellular networks.
---
---