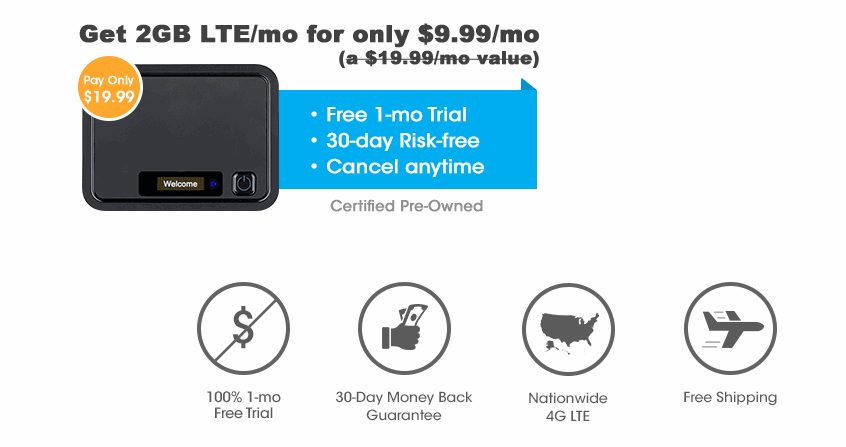 ---
FreedomPop is currently running a couple of limited time deals.  Deal number 1 features a mobile hotspot plan with 2 GB of data for $9.99/month while deal number 2 is for a phone plan with unlimited talk and text with 2 GB of data for $12.99/month.
About That Hotspot Plan
FreedomPop's hotspot plan includes a free 1 month trial that can be cancelled at any time.  The plan is regularly priced at $19.99/month but through this special offer customers can get it for just $9.99/month when they pay for service 6 months in advance.  Signing up for the plan and the free trial offer does not require any upfront payments other than $19.99 for the purchase of a Franklin Wireless R850 mobile hotspot device.
A free trial of FreedomPop Premier is also included with the offer.  FreedomPop Premier gives subscribers faster download speeds, which suggests that the LTE speeds included in the basic $9.99 plan will be slower for those who elect to cancel the Premier package once the trial ends.  Rollover data is also included with the package.
FreedomPop Premiere is billed every 6 months at an average monthly rate of $3.49.
The mobile hotspot plan runs on the Sprint network.
About That Phone Plan
Like the mobile hotspot plan, a 1 month free trial and 30 day money back guarantee are also included with the phone plan as is a one month free trial of FreedomPop Premier.
The plan includes service through the Sprint network and to get the $12.99/month pricing service must also be purchased 6 months in advance.
To take advantage of this offer an LG Tribute 2 LS665 must be purchased which is priced at $29.99.
A similar plan is also offered by FreedomPop for just $12.99/month that runs on the AT&T network and it can be found here.  No additional purchases are required to get this offer other than the purchase of a $0.99 SIM card.
---
---