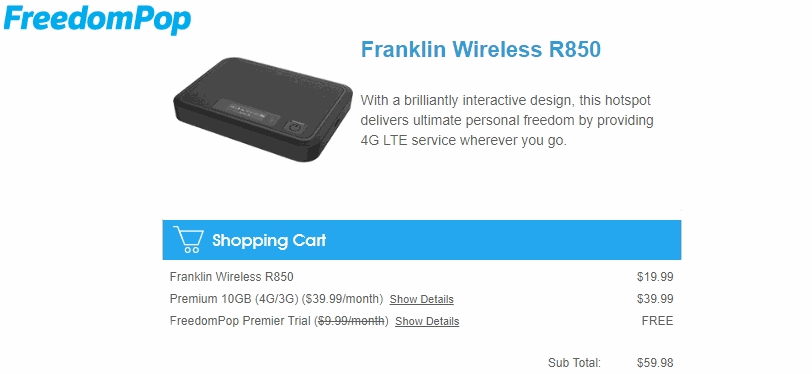 ---
FreedomPop has launched a new mobile hotspot plan using the Sprint network.  Customers can now get 10GB of 4G LTE data for just $39.99/month. It's basically the same plan that they announced back in January, except that offer was for service using the AT&T network. Freedompop says this plan will be available for a limited time.
Offer Details
Like most FreedomPop offers, this one comes with a 30 day money back guarantee with no contracts or commitments necessary. However, the purchase of a mobile hotspot device is required for service.  FreedomPop is bundling the Franklin Wireless Hotspot R850 for $19.99 with the plan.  For comparison's sake, the Boost Mobile Franklin Wireless R850 can be bought on Amazon starting at $54.99 from third party resellers.
Like it's AT&T based counterpart, this Sprint based hotspot plan has data overages that are priced at 2¢ per MB which works out to $20/GB.
As part of the product launch, a free trial of FreedomPop Premier is also included.  FreedomPop Premier is valued at $9.99/month and it includes the following services:
Data Rollover - rollover your unused data and bank up to 20 GB for use anytime
Data Compression - get up to 2x your data with compression technology
Usage Alerts - prevent pay as you go charges before going over data limits with usage alerts
Private Internet - ensures that your internet, voice calls & texts are secure and encrypted
Ad Blocker - block intrusive ads, pop-ups, and video ads to enhance browsing
Sponsor Ads Free Messaging - avoid banner ads in your messaging app
Interestingly, the AT&T based hotspot plan is advertised as having FreedomPop Premier available for $7.99/month.
If FreedomPop's mobile hotspot service is something you are interested in, it will cost you $59.98 to get started.  That price includes 1 month of service with 10GB of LTE data, a mobile hotspot device and a 1 month free trial of FreedomPop Premier.
Are you sure you're getting the best hotspot deal in wireless? Be sure by comparing hotspot plans before you make your next purchase.
---
---