FreedomPop Selling 7″ Alcatel OneTouch Pixi Tablet With 2GB Of Data For Just $29.99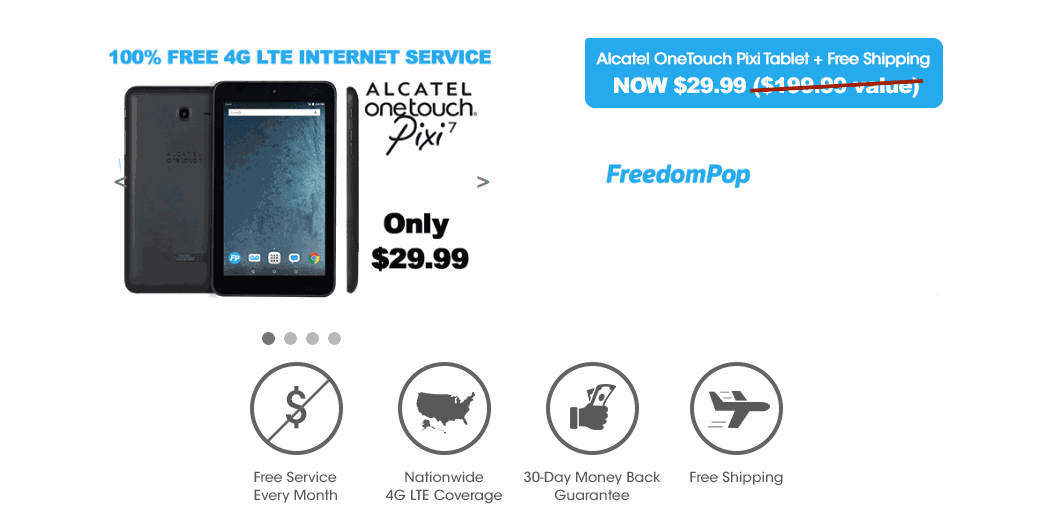 ---
Did you know BestMVNO is available to follow for free in Google News? Follow BestMVNO in your Google News app and keep up to date on wireless.
Follow BestMVNO In Google News
---
---
FreedomPop is now selling the 7 inch Alcatel OneTouch Pixi tablet for just $29.99 with a free month trial of its 2GB data plan. Service is on the Sprint network.
Alcatel OneTouch Pixi Tablet
The Alcatel OneTouch Pixi tablet is a budget device with the following specifications:
7" 1024x600 screen
4000 mAh battery
Quad-Core 1.1 GHz Quad-Core Snapdragon 210 processor
Android 5.0 Lollipop
5 MP main camera with a 2MP selfie camera
8GB internal storage with 4GB usable expandable with a microSD card
1GB RAM
Support for the following LTE bands: 25, 26, 41
Plan Details
The plan being included with the tablet is a one month free trial of FreedomPop's premium 2GB semi-annual plan.  It comes with monthly allotments of:
2GB of data
Unlimited Talk
Unlimited Text
After the free month trial, customers can either elect to cancel the plan or pay $71.94 for 6 months of service. This works out to an average cost of $11.99/month.
Be informed of the latest deals, plans and promotions from AT&T and every one of its MVNO's when you subscribe to the AT&T weekly newsletter. No spam and you can unsubscribe at any time!
Unless subscribed to the phone premier plan described below, data speeds are thought to top out at about 5 Mbps.
A one month free trial of FreedomPop's Phone Premier semi-annual plan is also included in the offer. FreedomPop's Phone Premier plan is priced at $26.94 every 6 months which works out to an average monthly cost of $4.49.
The semi-annual phone premier plan includes:
Visual Voicemail
Data Rollover - Rollover your unused data and bank up to 20 GB for use anytime
Premium Voice
MMS Texting
Data Compression - Get up to 2x your data with compression technology
Usage Alerts - Prevent pay as you go charges before going over data limits with usage alerts
Private Internet - Ensure your internet, voice calls & texts are secure and encrypted
Hotspot - Connect up to 8 devices anywhere you go
Ad Blocker
Data Saver - Control your data usage with data throttle
Speed Boost - Enjoy lightening fast internet speed, without any restrictions
FreedomPop Sponsor Ads Free Messaging - Avoid banner ads in your messaging app
If you do decide you want both of FreedomPop's paid add on services, their combined costs will run you $98.88 every 6 months which works out to an average cost of $16.48/month.
This latest offer from FreedomPop comes with a lot of unnecessary features for a 7" tablet. For instance, does it really need to come with premium voice, mms messaging and visual voicemail? Unfortunately, you don't have a choice if you want to get this deal to use the tablet for tethering/mobile hotspot purposes.
As far as LTE connected tablets go, it certainly is priced as a bargain.
---
Be sure to follow BestMVNO on Twitter for additional wireless coverage, deals, insights, and even debates!
Follow @BestMVNO Twitter
---
---