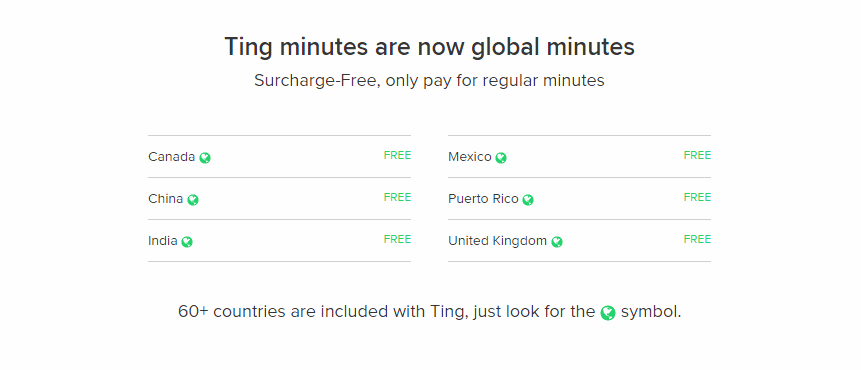 ---
Thanks to a reader tip, I have learned that Ting recently added international calling free of charge to its cell phone plans.
Ting minutes are now global minutes the company has proclaimed through its website.  This means that if you have a plan with 100 minutes, you can use them all to call internationally if you so choose without having to pay a surcharge.  Over 60 countries are included with the feature at no extra charge.  Dialing other countries will still require you to pay a fee on a per minute basis.  You can find Ting's full list of international calling rates here.
Just a few weeks ago Ting's parent company Tucows announced that it had purchased Canadian MVNO Roam Mobility.  Roam Mobility and its network of brands specialized in providing international services to its customers.  Tucows said after the purchase that revenue from the deal would have a minimal effect on its bottom line, however it also said it should kick in almost immediately.
Through social media, A Ting representative has informed me that the new surcharge free global calling feature is not related to the company's recent acquisition of Roam Mobility.  However, they did just hire some Roam Mobility employees, and they do expect their international features to improve over time thanks to the acquisition.
About Ting
Ting is a US MVNO that operates on both the T-Mobile and Sprint networks. Subscribers get to custom build their own phone plans choosing from separate buckets of talk, text and data.  If desired, talk, text or data only plans can be purchased.  Tethering is allowed.
Prices start at $9/month for a plan with either 100 minutes, 100 texts or 100 MB of data.
Although far from being the cheapest provider around, Ting is known for having above average customer support.
---
---