Ookla Names T-Mobile America's Fastest Network, USA Said To Offer 44th Fastest Mobile Network Speeds In The World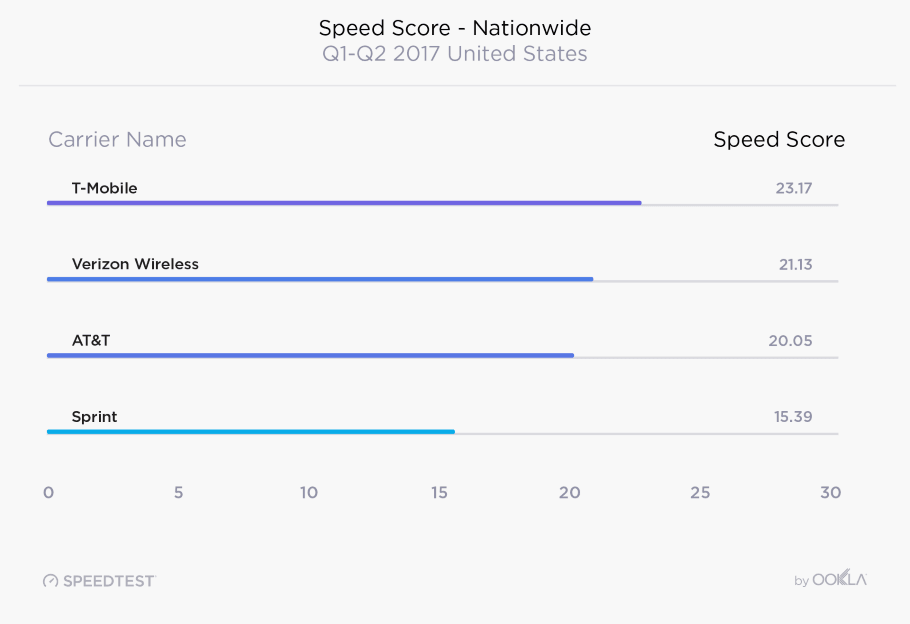 Mobile internet speeds were measured by Ookla during quarters 1 and 2 of 2017, which basically corresponds to the first 6th months of the year.  Over that time frame roughly 3 million mobile devices were used to record over 14 million speed tests which were used for this mobile network speed study.
Results of the study showed T-Mobile to be America's fastest wireless network overall.  T-Mobile's average upload and download network speeds weren't published by Ookla, but in their place a "Speed Score" was.  In a bit of an over simplification, the Speed Score as Ookla defines it, is heavily weighted in favor of the carrier's average download speeds.
T-Mobile received a Speed Score of 23.17 which edged out Verizon's score of 21.13.  AT&T finished third in the study with a score of 20.05 while Sprint lagged severely behind with a score of 15.39.
While an average download and upload speed was not listed for any individual carrier, combined average download and upload speeds between all carriers were calculated and published.  Average download speeds came in at 22.69 Mbps and upload speeds at 8.51 Mbps making the USA the country with the 44th fastest mobile internet speeds in the world.  In previous testing, the USA was ranked 42nd.
Ookla Measures The Impact That Unlimited LTE Data Has On Each Network
In addition to providing Speed Scores for each network, Ookla was also able to measure the impact that unlimited LTE data plans have had on each network by comparing current network download speeds to those obtained in the past before unlimited plans became main stream.
The study showed that over the course of the last 6-9 months, T-Mobile and Sprint networks have had little trouble with unlimited LTE data plans.
Surprisingly, Verizon and AT&T's network's have also had very little trouble with unlimited LTE data plans although this may be due how each of these two carriers is managing their cell phone plans and network's.
The study did show that the percentage of users with download speeds below 5 Mbps did shoot up compared to the time before AT&T and Verizon offered unlimited data plans.   AT&T of course offers an unlimited data plan with download speeds limited to 3 Mbps which could explain their result.  Verizon may also be more aggressively enforcing its data prioritization policy once its users consume more than 22 GB of high speed data in a month.  This may help to explain the Verizon result.
At speeds above 5 Mbps there was little change in the performance of either AT&T's or Verizon's network when comparing network speeds before and after their respective unlimited data plans were released.  This is why Ookla says the unlimited LTE data plans haven't been a major detriment to either network.
---
---