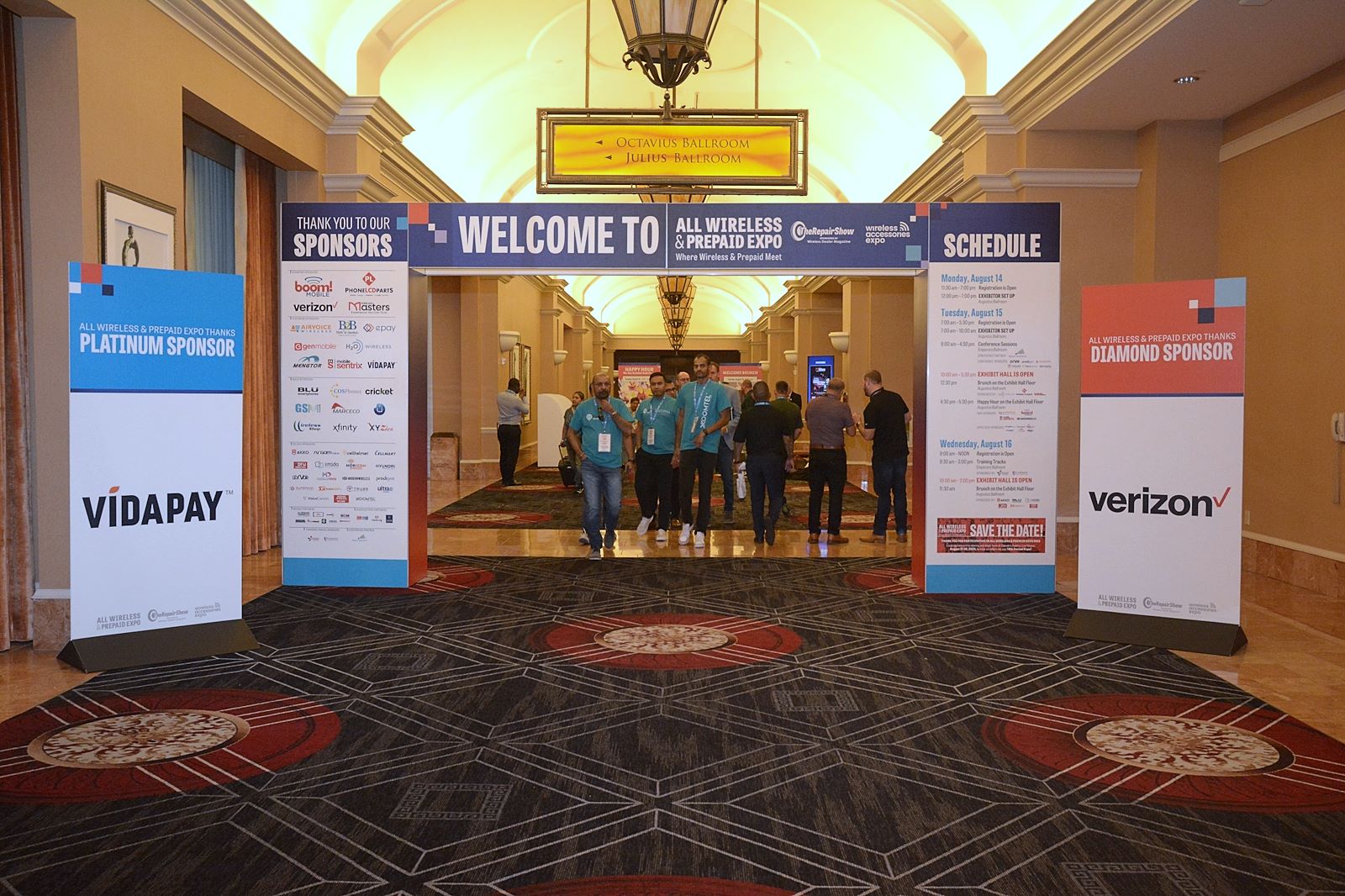 ---
Did you know BestMVNO is available to follow for free in Google News? Follow BestMVNO in your Google News app and keep up to date on wireless.
Follow BestMVNO In Google News
---
For anyone who has traveled to Las Vegas in August, the All Wireless & Prepaid Show is a must-stop for everyone connected to the wireless industry. This year's event was no exception with over 4,000 attendees meeting, networking, socializing, and learning.  From its beginnings in 2008, this show has become THE go-to event for our industry featuring keynote speakers from companies like Verizon, DISH, etc. as well as an explosion of newcomers such as repair companies, payment processors, and accessories firms quickly selling out the exhibitor space.
For me personally, this year's event was a great opportunity to introduce my clients to MVNOs, MVNEs, MVNAs, Master Dealers, and suppliers but more importantly, to rekindle relationships and friendships that have been forged over 32 years in the wireless industry.  A big THANK YOU to everyone who I have met on this journey and your support of companies like mine, Atrium Unlimited Consulting, to be able to continue to work in our industry.
First and foremost is a big shout-out to Robin Tobias, President of the All Wireless & Prepaid Expo (AWPE).  Robin and her staff set the standard on how a trade show should be run, from registration, timely presentations, a full agenda, and access to the decision-makers.  I spoke to Robin during and post-show for her views on why it's important to attend events like this and how it can help a wireless company's business.
"Live events continue to be the most efficient way to grow a business.  There is no other way to meet with all verticals, and all segments, within an industry.  We learned just how important our event is to the telecom industry after Covid.  Our first live show back (after Covid), in 2021, brought in more exhibitors and attendees than any show to date, and we have continued to see an increase of about 20% for both groups each subsequent year.  
Since 2008, All Wireless & Prepaid Expo has been the one critical event for providers in the telecommunications space, as it joins all sectors and players in one meeting space.  From accessories to devices to prepaid wireless services, you'll find it here.  Since our roots are in the prepaid space, no other expo showcases as many MVNOs as AWPE. To prepaid wireless dealers and retailers, this means the ability to speak with virtually every carrier, MVNO, and brand in the marketplace over a short two-day period.  For those looking to enter the MVNO space, there are also multiple MVNEs (Mobile Virtual Network Enablers) to source.  Moreover, our conference program, managed by leading telecom research firm Wave7 Research, is designed specifically to provide information on the ever-evolving prepaid landscape and give dealers and retailers the tools they need to compete, and succeed, in light of constant changes. With over 100 exhibitors and close to 4,000 registered attendees in 2023, I can confidently say the business opportunities at AWPE are unparalleled in the industry today." 
Well said and I wouldn't be surprised to see 5,000 attendees at next year's show!
What Are Others Saying About AWPE?
Robin mentioned Jeff Moore from Wave 7 Research who managed this year's conference program.  Jeff added, 
"To me, the All Wireless & Prepaid Expo has mostly been about networking.  I've spoken at the All Wireless & Prepaid Expo every year since 2017.  In every case, my contact list has grown, and it has benefited my business, Wave7 Research, both financially and in terms of our ability to turn out informative reports.  The conference sessions have always been helpful, both in terms of meeting the right people involved with certain subject areas and in terms of learning more.  For example, insights from the highly informative presentation of Hanish Bhatia of Counterpoint Research at the 2023 Expo will be finding their way into Wave7 Research reports."
Peter Adderton, Founder of Boost Mobile and now MobileX, found time to buy me a coffee (thanks, Peter!) and told me that,
"Having an event like this where a lot of people come to meet is very efficient, so a manufacturer or carrier doesn't have to fly all over the country to meet people.  Meeting with master dealers, dealers, and everyone else at this show was very convenient for us."
Daniel Levy is the Director, Strategic Partnerships for Wing, an MVNO and ISP.  Daniel tells me,
"It is essential to network within the channel, the companies you define as your competitors may very well be the same companies that through a working relationship may enable you to grow at accelerated rates.
The AWPE Show connects both our channel executives and sales professionals to a plethora of products and services that we as a business can add to our already expansive rate card for us to then provide downstream to our business customers and end users."
Adam Wolf, President of the National Wireless Independent Dealers Association (NWIDA) tells me, 
"Quite simply, we (NWIDA) feel this is the best wireless show in the country. It's been that way for a while and it keeps growing. It's our one "can't miss" show and our schedule at the show is consistently packed. It's critical to be able to meet in person - we're able to get new Vendor Partners as well as new Retail members. We can increase the value of the NWIDA membership with several partners on the same day. It would be impossible to do that if not face-to-face." 
As far as any breaking news, there is nothing much to report.  Jeff Moore from Wave 7 Research will be putting together a recap of his insights and learnings and of course, I'm sure that the AWPE group will be continuing to communicate with all of the attendees.
I wrote an article in this space in April 2022 asking "Should MVNOs Attend Trade Shows?"  The overwhelming answer is YES, based on the smiling faces, good crowds, and networking that we saw last week in Las Vegas.  A few more shows coming up this year, Mobile World Congress in September and MVNO Nation in Valencia, Spain in October.  Hope to see you there!
Good Selling!
Jon
---

Jon Horovitz
has been in the wireless industry as a senior executive for 32+ years. He headed up sales and operations in leadership roles for McCaw Communications, AT&T Wireless, Nextel, Boost Mobile, and Sprint. He has owned an MVNO as well as assisted in the start-up of many others. In 2022, Jon was named United States Ambassador to MVNO Nation (based in London and supporting 6000+ MVNOS). His consulting company,
Atrium Unlimited, LLC
, advises carriers, MVNOs, investment bankers, and venture capitalists interested in joining the wireless space. Jon would love to hear from you about any consultative needs you may have.
---
---