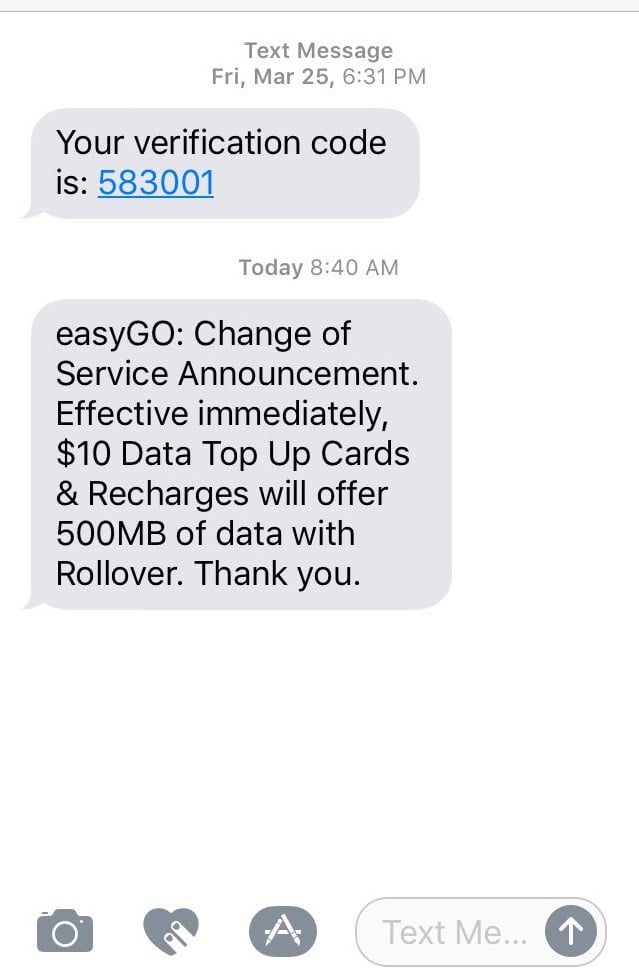 ---
AT&T MVNO EasyGO has reduced the amount of data that comes with its $10 data add on card.  The company sent out a text message to subscribers informing them of the change, and BestMVNO.com was notified of the text message by a site reader.  Previously the card included 1 GB of 4G LTE data, but now it only includes 500 MB.  Data rollover is fortunately still an included feature.  Data will rollover indefinitely as long as your number remains active.
I'm not quite sure why EasyGO made this change, although the existence of H2O Wireless alongside of EasyGO is hard for me to understand as well given that both brands are owned by the same parent company, Locus Telecommunications, and both brands can be found on the same website.  The two brands also focus on the same thing, offering lots of international talk and text on each of their plans.
Be informed of the latest deals, plans and promotions from AT&T and every one of its MVNO's when you subscribe to the AT&T weekly newsletter. No spam and you can unsubscribe at any time!
With the plan changes, EasyGO now offers the following Unlimited Monthly Plans:
$20 - unlimited talk, text, MMS, international text and international talk to 11 countries.  100 MB of 4 G LTE data.
$30 - unlimited talk, text, MMS, international text and calling to over 80 countries.
$10 - data add on card with 500 MB of 4G LTE data and infinite rollover.
With the data add on card pricing change, EasyGO has become a little less competitive in the market as can be seen in this list of the cheapest phone carriers.  Potential customers of EasyGO may find Airvoice Wireless which offers identical plans but in some cases with more data to be of better value to them.
Shop at Amazon for Airvoice and EasyGO.  
---
---