EasyGO Adds More Data To Plans, Get 2GB LTE Data With International Calling For $30/Month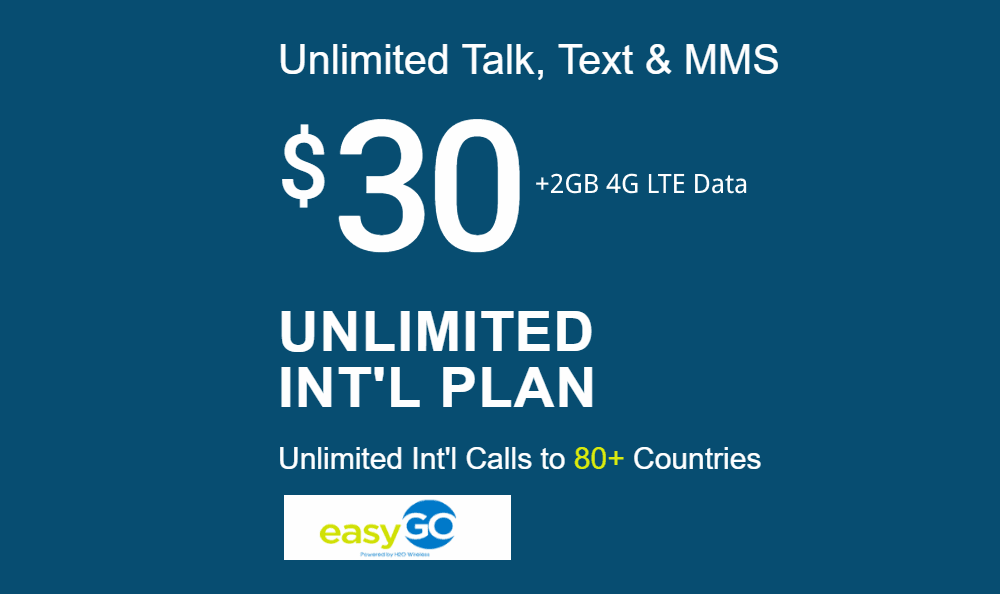 ---
Did you know BestMVNO is available to follow for free in Google News? Follow BestMVNO in your Google News app and keep up to date on wireless.
Follow BestMVNO In Google News
---
---
EasyGO has updated its wireless plans.  The MVNO that is run by H2O Wireless and now owned by Pure TalkUSA has increased the data allotments offered on its two unlimited monthly plans.
The MVNO's $20 unlimited plan now includes 500MB of data at 4G LTE data speeds.  It previously came with 100MB.  EasyGO's $30 wireless plan now includes 2GB of data at 4G LTE data speeds.  This is up from the previous allotment of 200MB.  Both plans still have a hard data cap.  Subscribers don't have access to unlimited data at 2G speeds once their high-speed allotments get used up.
The changes were first discovered by the firm Wave7 Research.
EasyGO Wireless's Updated Plans
EasyGO Wireless sells two monthly plans and also has a PayGO option.  With the plan updates, EasyGO's plans are now structured as follows:
$20/month - unlimited talk and text, and international talk and text to 11 countries.  500MB of 4G LTE data.
$30/month - unlimited talk and text, and international talk and text to over 80 countries.  2GB of 4G LTE data.
Both plans include taxes and fees in the prices shown.  Data is hard capped on both plans, but subscribers can add additional data priced at $5/500MB.  Add-on data comes with rollover and will last as long as the customer's account remains active.
EasyGO Wireless PayGO plan billing starts at $4.99 and service expires after 30 days.  Subscribers on the plan are billed 5¢ per domestic or international text or minute of talk.  The plan allows for international calling to over 60 countries.  Data is limited to 3G speeds and billed at a rate of 5¢ per MB.
EasyGO is an MVNO that offers service on the AT&T network, with a focus on providing plans that feature international calling and texting options.
---
Be sure to follow BestMVNO on Twitter for additional wireless coverage, deals, insights, and even debates!
Follow @BestMVNO Twitter
---
---