Today Only, Google Fi Offering 50% Off Purchase Of Pixel 3 And Pixel 3XL Devices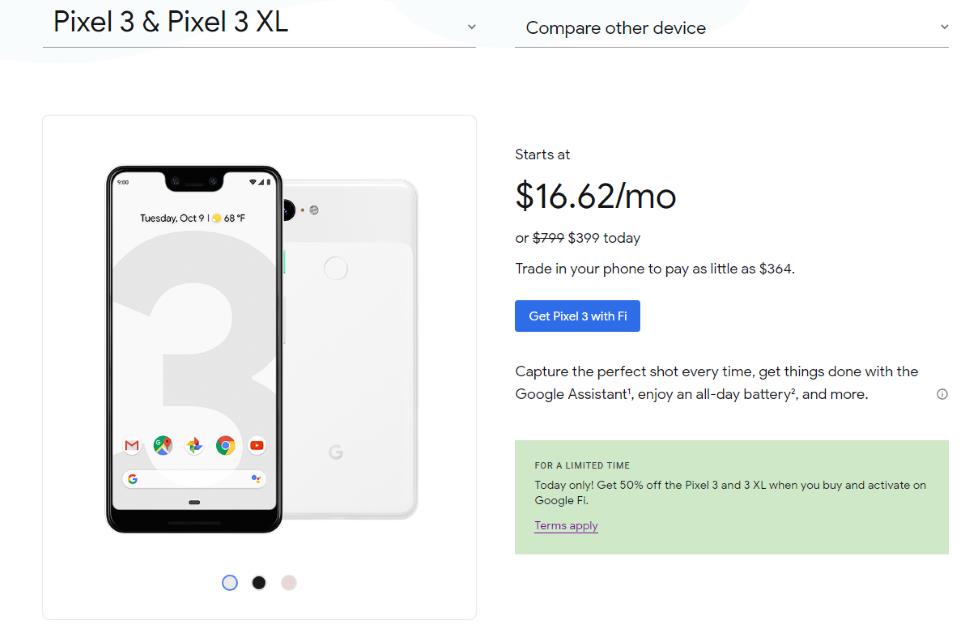 Today marks the 3 year anniversary since Google first launched Google Fi.  To celebrate, the MVNO is offering 50% off the purchase of a Pixel 3 or Pixel 3 XL with activation on Google Fi.  The offer will be valid until 11:59 PM PT on April 22, 2019 or while supplies last.
Offer Details And Available Phones With Discounts Highlighted
Pixel 3 64 GB is discounted from $799 to $399
Pixel 3 128 GB is discounted from $899 to $449
Pixel 3 XL 64 GB is discounted from $899 to $449
Pixel 3 XL 128 GB is discounted from $999 to $499
This offer is available to both new and existing Google Fi customers.  To keep the 50% discount, customers must activate their phone on Google Fi within 30 days of receiving a shipment confirmation email from Google.  If the phone is not activated on time, customers will have their Google Payment account charged to take away the discount pricing.  Service must be activated on the same account used to purchase the phone. After activation and the customer's first month of service, they should be able to switch to another provider without penalty if they so choose.
There is a limit of one discounted phone allowed for purchase per person or one per group plan member.  Only USA residents aged 18 or qualify for the promotion.
In short, Google Fi's phone plans start at $20/month for unlimited talk and text.  Data is billed at a cost of $10/GB for up to 6GB.  After 6GB, customers no longer get billed for additional data usage.  Data becomes unlimited at that point, but throttled once over 15GB gets consumed.  Customers who use less than 6GB of data in a month will get billed by the fractional amount of data that they use.  For instance, someone that only uses 500MB will be billed $5 that month for their data usage.  If the next month they use 2.3GB of data, they will be billed $23 for their data usage that month.  Data can be used in over 200 countries at no extra cost.
Google Fi operates on the T-Mobile, Sprint, and US Cellular networks and also over WiFi. Phones that are specifically designed for Google Fi have the ability to automatically switch over to whatever network is currently providing the best signal to the customer.
---
---