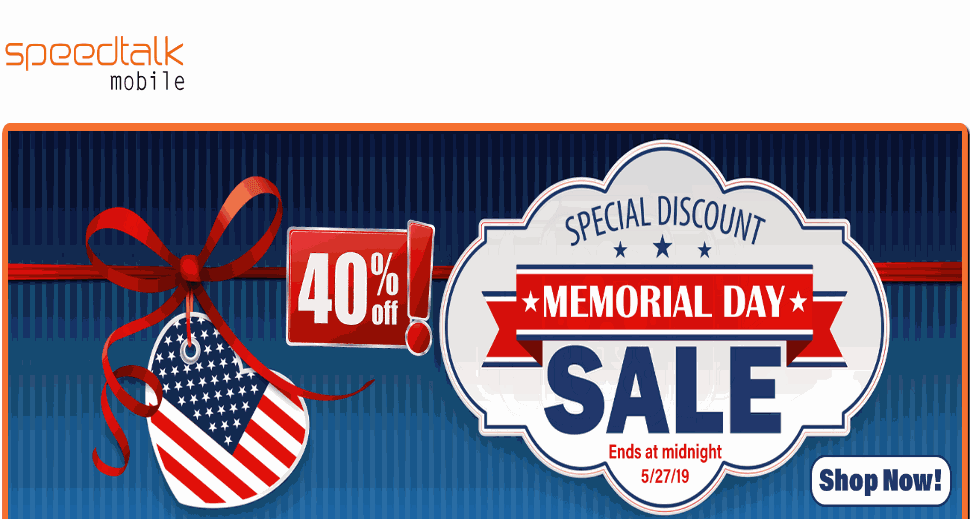 ---
SpeedTalk Mobile is running a memorial day sale where customers can save 40% on a wireless plan through the use of the promo code MEMORIAL40.  The MVNO sells SIM cards and service plans through many other online retail outlets including eBay and Amazon.  Plans through those outlets are automatically marked down 40% as part of the holiday sale.  However, if a SpeedTalk Mobile plan is bought through Rakuten, customers can save an additional 15% off the already marked down 40% sale price through the use of the coupon code SAVE15.  All offers will expire tonight, 5/27/19, at midnight.
Highlighted SpeedTalk Mobile Discounted Plans
SpeedTalk Mobile offers quite a few different plans to choose from.  Subscribers can go with a basic monthly plan, a PayGO plan, a rollover plan, or multi-month plan.  I'm going to highlight the annual plan options here for the value that they offer through this special sale.
Don't Miss Out On More Deals Like This!
Get the next deal delivered to your inbox as soon as it's announced!
Annual Plans With Discounted Pricing Highlighted
$30.6 - includes 250 minutes or 250 texts or 250MB of 4G LTE data each month.  Average monthly cost of $2.55/month.  Regular price $60.00.
$50.49 - includes unlimited texts, 500 monthly minutes, 1GB of monthly 4G LTE data. Average cost $4.21/month.  Regular price is $99.
$81.60 - includes unlimited talk and text with 2GB of monthly 4G LTE data.  Average cost is $6.8/month.  Regular price is $160.
$126.99 - includes unlimited talk, text, and data with the first 3GB each month at 4G LTE data speeds.  Average cost is $10.58/month.  Regular price is $249.
Unless specified otherwise, data is hard capped on all plans.  Subscribers can add extra talk, text or data to their plan at any time.  For $5, customers can add an additional 250MB of 4G LTE data, 250 minutes, or 250 text messages to their plan.
With the sale, pricing on the annual plans appears to offer excellent value if you are willing to commit to service on a wireless provider for that long.
SpeedTalk Mobile is an MVNO that operates on the T-Mobile network.  You can see how their discounted plans compare to other plans on the market by checking out this list of cheap phone plans, or this T-Mobile MVNO list.
If you just want to check out their discounted plans, head on over to Rakuten, and be sure to use the code SAVE15 to get the extra 15% off.
---
---