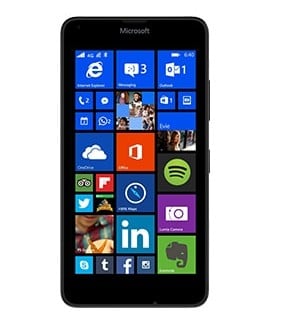 ---
---
Microsoft is currently offering the AT&T Microsoft Lumia 640 GoPhone no contract for $39.99, a savings of $20.99 off the stores regular price.  The phone is unlockable and available for use on any GSM network that its bands support.
The phone will also be available via Best Buy on Black Friday but in limited supply for $29.99.
[su_button url="https://click.linksynergy.com/fs-bin/click?id=qN4/moAYbfI&subid=&offerid=402138.1&type=10&tmpid=3763&u1=Lumia640MicrosoftSale&RD_PARM1=http%3A%2F%2Fwww.microsoftstore.com%2Fstore%2Fmsusa%2Fen_US%2Fpdp%2FAT-T--Microsoft-Lumia-640-Black--No-Contract%2FproductID.320816400%3Ficid%3Dicid_Lumia640_11232015" style="flat" background="#00b5ff" color="#ffffff" size="5" wide="no" center="yes" icon_color="#ef2209"]Buy a Microsoft Lumia 640 Now![/su_button]
Don't Miss Out On More Deals Like This!
Get the next deal delivered to your inbox as soon as it's announced!
Specifications
The phone features the following:
5" HD 1280x720 294 PPI ClearBlack IPS Display with Corning Gorilla Glass 3
2500 mAh user replaceable battery
Quad core 1.2GHz Qualcomm Snapdragon 400 processor
1GB of RAM with 8GB of internal storage expandable with a microSD card
Windows Phone 8.1 is on board, the phone will get upgraded to Windows Phone 10 when it becomes available in the coming weeks
An 8MP rear camera is on board with LED flash, and a 0.9MP selfie camera graces the front
FM radio is built in
The following network frequencies are supported:
GSM network: 850MHz, 900MHz, 1800MHz, 1900MHz

GSM max data speed DL: EGPRS 296.0kbps

GSM max data speed UL: EGPRS 236.8kbps

WCDMA network: Band 1 (2100MHz), Band 2 (1900 MHz), Band 4 (1700/2100 MHz), Band 5 (850MHz)

WCDMA max data speed DL: 42.2Mbps (Cat 24)

WCDMA max data speed UL: 5.76Mbps (Cat 6)

LTE FDD network10: Band 17 (700MHz), Band 2 (1900MHz), Band 4 (1700/2100 MHz), Band 5 (850MHz), Band 7 (2600MHz), Band 28 (700MHz), Band 12 (700MHz)

LTE max data speed DL: 150Mbps (Cat 4)

LTE max data speed UL: 50Mbps (Cat 4)
[su_button url="https://click.linksynergy.com/fs-bin/click?id=qN4/moAYbfI&subid=&offerid=402138.1&type=10&tmpid=3763&u1=Lumia640MicrosoftSale&RD_PARM1=http%3A%2F%2Fwww.microsoftstore.com%2Fstore%2Fmsusa%2Fen_US%2Fpdp%2FAT-T--Microsoft-Lumia-640-Black--No-Contract%2FproductID.320816400%3Ficid%3Dicid_Lumia640_11232015" style="flat" background="#00b5ff" color="#ffffff" size="5" wide="yes" center="yes" icon_color="#ef2209"]Buy a Microsoft Lumia 640 Now![/su_button]
---
---