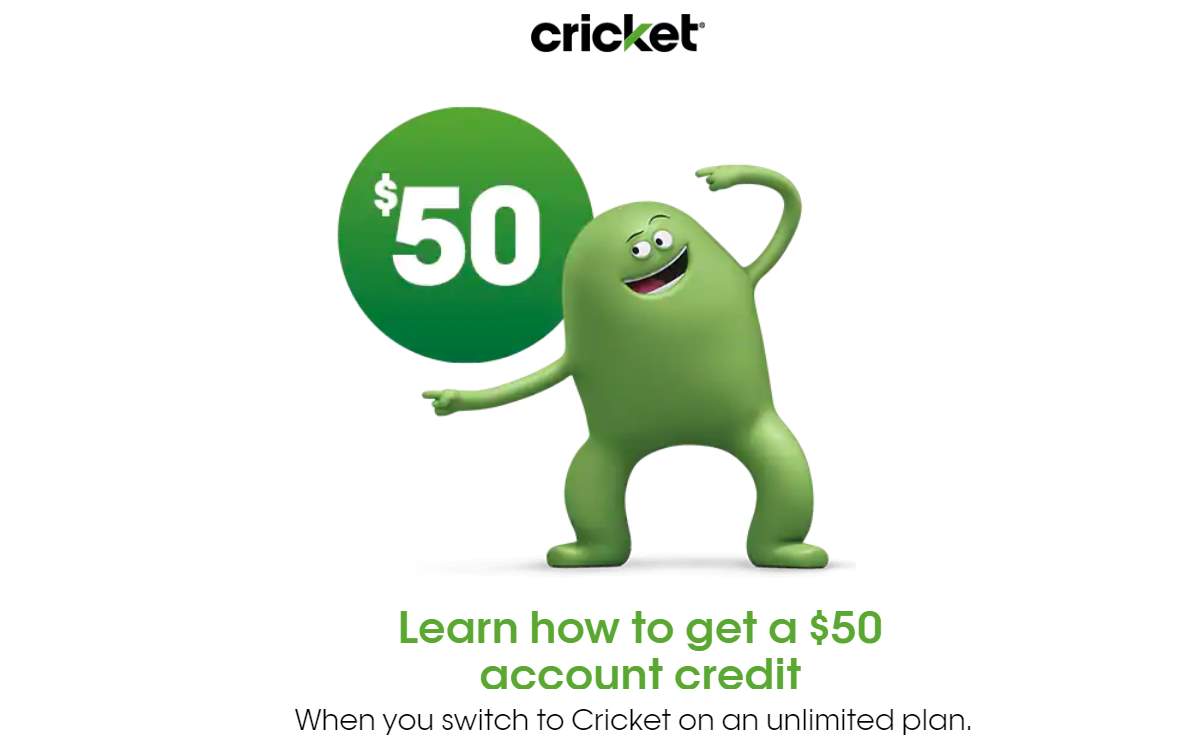 ---
The calendar has turned to October, and Cricket Wireless has some new and updated deals out. The iPhone 7 is now free in-stores while the iPhone 8 can now be picked up online for $49.99. The iPhone SE continues to be available for $249.99 although interested parties may find a slightly better deal at Walmart, I'll come back to that in a bit.
Another new offer was noted by Wave7 Research. The publication just reported to its subscribers that Cricket Wireless is now offering a $50 account credit to those who port into an unlimited plan. The switcher account credit is available online only.
Be informed of the latest deals, plans and promotions from AT&T and every one of its MVNO's when you subscribe to the AT&T weekly newsletter. No spam and you can unsubscribe at any time!
Cricket's iPhone Offers Explained
According to Lady Red's Tech Reviews, the free iPhone 7 offer is not widely available and will only be found in select Cricket Wireless stores. The phone is no longer available for purchase online which indicates that it has reached its end of life at Cricket.
Customers interested in getting the iPhone 7 for free will have to call their local Cricket Wireless dealers to see if they have it in stock. The offer is only available to those porting into Cricket Wireless's $60 unlimited plan. A valid ID is also required to get the offer. There is a limited of two free phones allowed per customer/account.
The iPhone 8 is now available online and in stores for $49.99 to customers that port-in to Cricket Wireless's $60 unlimited plan. The 64GB and 128GB models are both in stock online for the same $49.99 price tag but I suspect availability will change very soon. Current customers looking to upgrade their phones can get either storage variant for $199.99.
The $249.99 64GB iPhone SE offer has been ongoing and has all the same fine print associated with the iPhone 8 offer. However, customers who make the switch in-store at Walmart are only required to signup for Cricket's $55 unlimited plan to get the deal.
In order to be eligible for any of the deals, subscribers returning to Cricket Wireless must not have been a Cricket Wireless customer within the past 180 days.
$50 Account Credit Offer Details
This $50 bill credit is available online only. It requires customers to port-in to Cricket Wireless and activate service on either the $55 or $60 unlimited data plan. The $50 bill credit will only be applied after the subscriber completes their second month of service. The subscriber must remain in good standing with Cricket Wireless to receive the account credit. The offer is scheduled to be available until 11/5/20 and you can combine it with the iPhone 8 and SE phone deals or any other Cricket phone deal that is out or that comes out.
---
---