Reminder: Cricket Wireless Will Soon Charge More For 5 Line Family Plans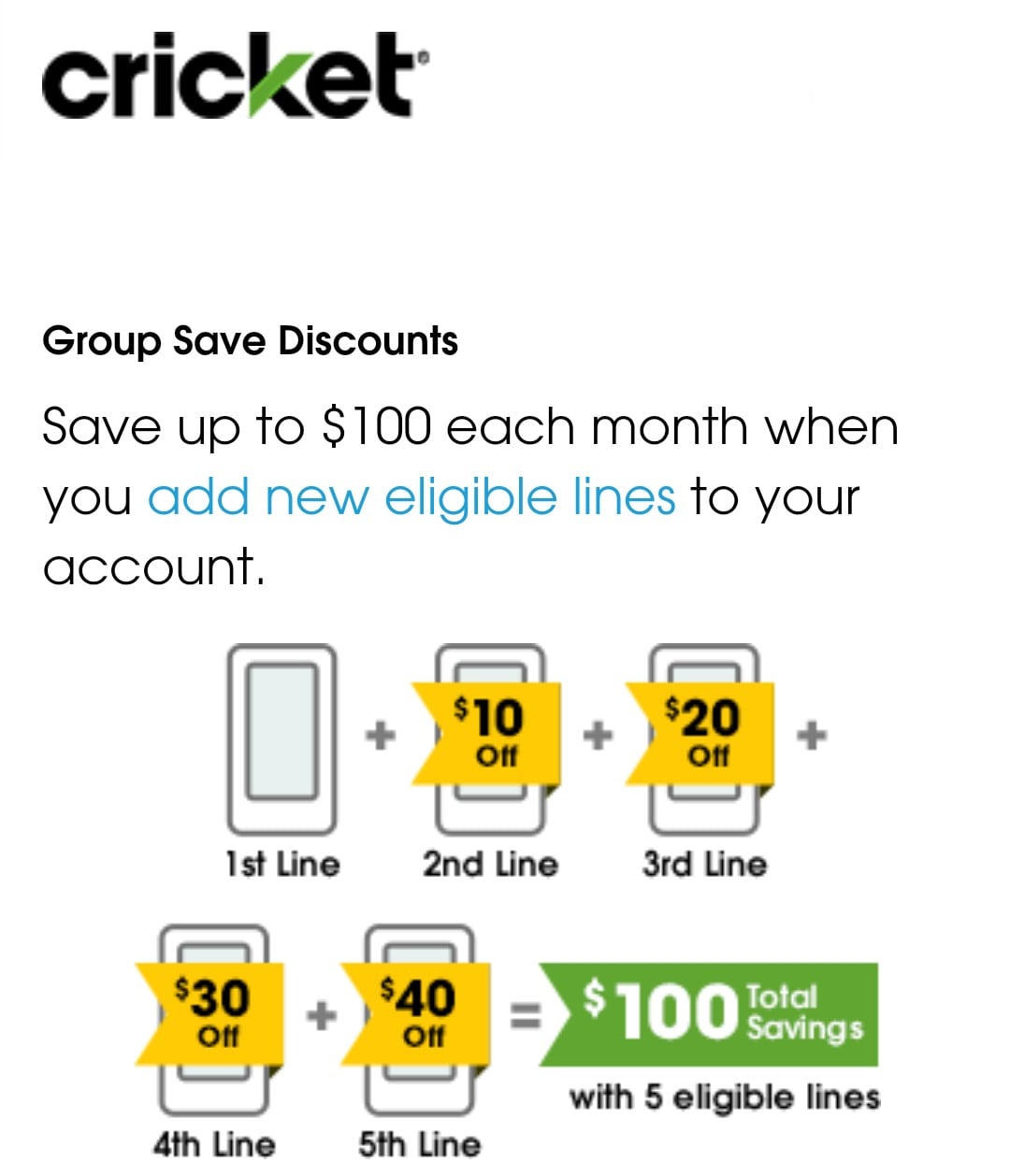 Cricket Wireless offers three cell phone plans for smartphone users.  All three plans include unlimited talk and text with varying amounts of high speed data.  The $40/month Basic plan gets users 2.5GB, the $50/month Smart plan includes 5GB and the $60/month Pro plan includes 10GB of high speed data((4G LTE download speeds limited to 8Mpbs)).  The Smart and Pro plans also include unlimited international texting and calling as well as full service roaming capabilities while in Mexico and Canada.  Those who signup for autopay get $5/month off of their phone bill.
Cricket Wireless offers Group Save or what others might call family plan discounts on its cell phone plans with savings of up to $100 for 5 eligible lines.  Discounts on each line are structured as follows:
Line 1, no discount
Line 2, $10 off
Line 3, $20 off
Line 4, $30 off
Line 5, $40 off
So, as an example, with the Group Save discounts, it would cost a family of five $100/month if all subscribers were on the Basic plan.  Autopay credits do not apply to Group Save plans.
According to Cricket's Group Save terms and conditions, after March 1, 2016 the discount offered on line 5 will be reduced to $30 off, making that example plan for a family of 5 above cost $110/month.  This promotional discount of line 5 has been in effect for over a year, and Cricket has always said that the price would revert after March 1, 2016.  Whether or not Cricket keeps its word remains to be seen as the competitive landscape in the market has shifted greatly over the past year.  Still, those of you on the five line group save plan should keep an eye on your bill, as you may see the cost of your cell phone bill go up in less than two months.
---
---