Cricket Wireless Offering Unlimited Data 2 Plan For $40/Month To New Customers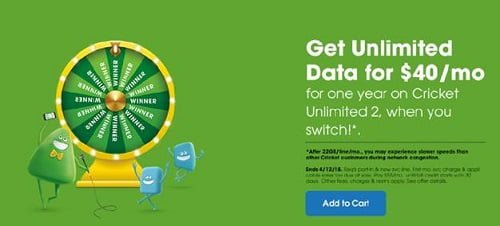 On February 16th, Cricket Wireless will begin offering its unlimited 2 data plan to new customers for $40/month.  The plan is regularly priced at $50/month with auto pay billing enabled or $55/month without it turned on.
The Fine Print
Cricket Wireless's unlimited 2 data plan offers data at a maximum speed of 3 Mbps. Video streaming speeds max out at just 1.5 Mbps. To top if off, those who consume more than 22 GB of data in a month may find their data speeds temporarily reduced even further during times of heavy network congestion. This type of practice is called data prioritization, and every carrier that offers an unlimited data plan has a data prioritization policy in place.
The unlimited 2 data plan also comes with unlimited calling and data while traveling in Mexico and Canada although a minimum of 50% of your usage must be in the USA.  Unlimited global texting to 38 countries is also included.
How The Offer Will Work
Customers who switch to Cricket and sign up for the unlimited 2 data plan will receive a $10 bill credit every month for 12 months. Those who enable auto pay on their account will save an additional $5/month making the total cost of the plan $40/month including taxes and fees.  After the 12 months is up the plan will revert back to its regular price of $55/month or $50 with auto pay enabled.
The offer is only available to new customers who port in excluding those coming from AT&T. The promotion will remain available until 4/12/18.  Note, if you try to take advantage of this offer in store, you will be charged an activation fee of $25.
Cricket Wireless is also offering the unlimited 2 data plan to families at a discount.  Families or groups of 4 can get 4 lines of service for just $100/month.
Free Phone Offer
Those who port in to Cricket Wireless and activate a new line of service costing $30 or more are eligible to get a free phone.  Free phones include the ZTE Overture 3, LG Fortune, and Alcatel Verso.  Without a port in, the phones are all currently valued at $39.99 or less. The free phone offer is not available to AT&T port ins.
This may be bad timing on Cricket Wireless's part to be offering a free ZTE phone, given that the US government is advising its citizens to stay away from the Chinese brand.
Cricket Wireless is an AT&T owned prepaid brand that operates on the AT&T network. Prices start at $25/month for unlimited talk and text.
Compare this offer from Cricket Wireless to other cell phone plans that are on sale this month.
---
---