Cricket Wireless Launches Limited "Unlimited" Data Plan For Single Line Customers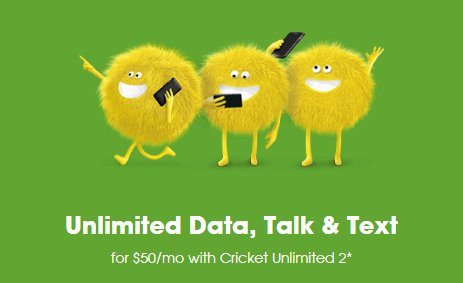 ---
Did you know BestMVNO is available to follow for free in Google News? Follow BestMVNO in your Google News app and keep up to date on wireless.
Follow BestMVNO In Google News
---
---
Cricket Wireless announced a new unlimited data plan today called "Cricket Unlimited 2."   The plan features unlimited talk, text and data for $55/month or $50 with auto pay billing enabled.
The Cricket Unlimited 2 plan is an expansion of a plan that was previously only available for those with 2 lines.  Cricket had been and still is offering two lines of unlimited data for $80/month.
The catch with the Unlimited 2 plan is that data speeds are limited to just 3 Mbps, although video streaming is further limited to 1.5 Mbps.  Even at these reduced speeds, Cricket Wireless is still applying a data prioritization policy.  Those that consume more than 22 GB of data in a month may find their data speeds temporarily reduced even further during times of heavy network congestion.
The Cricket Unlimited 2 plan also includes international texting to 38 countries.  Talk, text and data access are available at no extra charge while traveling in Mexico and Canada.  To avoid getting your service with Cricket discontinued, usage in Canada and Mexico cannot exceed more than 50% in a billing cycle.  You must use service in the USA a majority of the time.
Taxes and fees are included with the prices shown.
Editor's Take
Even with slower data speeds, Cricket's Unlimited 2 plan should be suitable for the average user.   3 Mbps is plenty fast to stream music, browse the internet and to use most types of social media.  Power and more demanding users will still want to look elsewhere for an unlimited data plan with faster speeds.
---
Be sure to follow BestMVNO on Twitter for additional wireless coverage, deals, insights, and even debates!
Follow @BestMVNO Twitter
---
---