Cricket Wireless Launches LG Stylo 5 For $229.99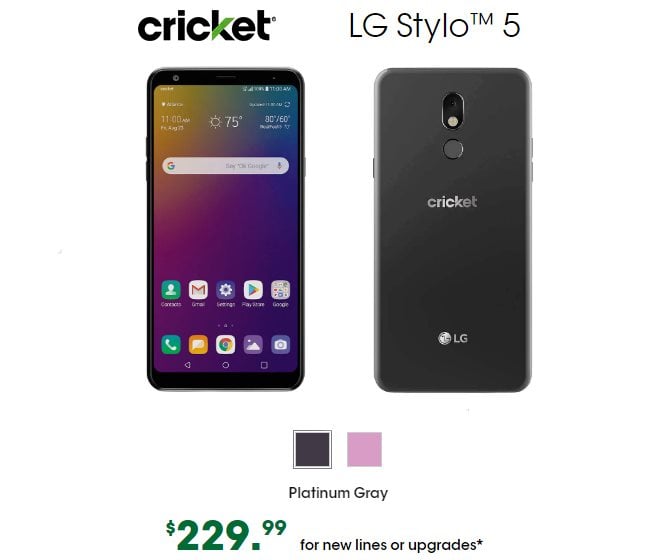 The next iteration of the LG Stylo is here.  Cricket Wireless launched the LG Stylo 5 today for $229.99 for new lines and upgrades.  Those that want to upgrade to the device will have to pay a $25 upgrade fee.
The AT&T owned prepaid brand is the first provider in the USA to carry the device.  It's predecessor, the LG Stylo 4 is still carried by all the major carrier prepaid brands including Sprint's Boost Mobile and T-Mobile's Metro-By-T-Mobile.  In fact, both Boost Mobile and Metro-By-T-Mobile have been busy offering various promotions centered around the LG Stylo 4, often a sign that a new model is forthcoming.  Both brands are expected to carry the LG Stylo 5 with some rumors suggesting a widespread release date for the phone on or around July 15th.
LG Stylo 5 Specifications
The LG Stylo 5 features the following:
1.8 GHz Qualcomm Snapdragon 450 Octa-Core processor
6.2" FHD+ 2160p x 1080p display
13MP rear camera with A.I. and Google Lens
5MP wide-angle selfie camera
Built-in stylus
32GB of internal storage expandable with a microSD card
3GB RAM
3500 mAh battery
Type C USB
Support for HD Voice, WiFi calling and mobile hotspot
Android 9.0 Pie
A lot of the basic specs of the LG Stylo 4 are the same as those found on the LG Stylo 5.  But there are differences between the two under the hood.  Highlighted differences include a larger battery with the new model and although the cameras have the same MP count, photo quality is said to be improved.  There are some cosmetic changes as well including new color options platinum gray and blonde rose, the latter being exclusive to Cricket Wireless, and the new model is a bit heavier. YouTube vlogger Lady Red's Tech Reviews has gotten to use both devices and can give you more of a direct comparison between the two.  She's got an LG Stylo 5 unboxing video to give an exclusive first look at LG's newest phone.
Be informed of the latest deals, plans and promotions from AT&T and every one of its MVNO's when you subscribe to the AT&T weekly newsletter. No spam and you can unsubscribe at any time!
---
---