Cricket Wireless Now Offering Switchers Several Phones For Free Including LG Stylo 5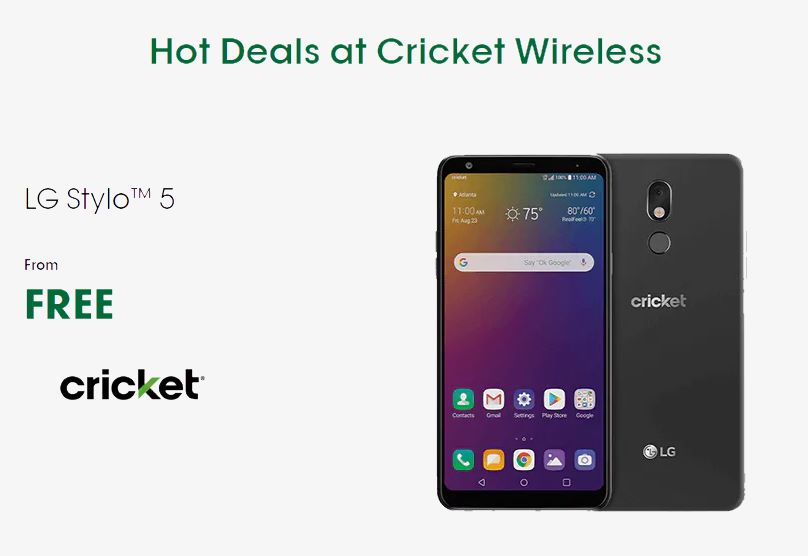 Cricket Wireless today announced the availability of several new free phone offers.  The unveiling was covered by Lady Red's Tech Reviews in a live video stream this morning.  Phones being given away for free include the Moto e5 Cruise, Moto G7 Supra, LG Fortune 2, LG Harmony 2, LG Stylo 5, Samsung J2 Pure, Nokia 3.1C, and the Nokia 3.1C Plus.  Cricket Wireless is referring to this sale as "the biggest sale ever on the latest Android devices," and hopes that you will "fall for Cricket Wireless" this season.
How To Get The Free Phones And Offer Fine Print
In order to get one of the free phones, you need to be a new customer that is porting into Cricket Wireless and you must subscribe to one of the two unlimited plans offered by Cricket.  Those porting from AT&T or an AT&T MVNO are not eligible for the offer.
Cricket sells two unlimited phone plans.  One is Cricket Core and it is priced at $55 or $50 with auto-pay billing enabled.  The other is called Cricket More and it is priced at $60/month or $55 with auto-pay enabled.  Cricket More offers customers data speeds with no limits and 15GB of mobile hotspot. Cricket Core data speeds are limited to a maximum of 3Mbps and does not come with mobile hotspot.  The two unlimited plans were recently refreshed by Cricket Wireless.
The free phone offers are available both online and in-store.  Customers who take advantage of the offer online as opposed to in-store will save money on fees.  Cricket Wireless charges up to a $25 line activation fee in-store and additional one-time fees including up to a $3 customer assistance fee. There are no such fees for online purchases.  Customers will be responsible for paying taxes on the devices where applicable.  Customers who end up being unhappy with their purchase will be subjected to a $25 return fee.
If you previously left Cricket Wireless for another provider you can take advantage of this offer.  Cricket Wireless considers you a new customer if you have not had service with them for a time frame of at least 90 days.
The free phone offers are scheduled to be available at least until 10/1/2019 (update: offer has been extended until at least 10/10/2019) or while supplies last.
In addition to the free phone offers, Cricket Wireless is still offering the Samsung Galaxy S9 for $274.99, online only.
---
---