Cricket Wireless Discontinues $25/Month Unlimited Talk And Text Plan, Updates Customer Referral Program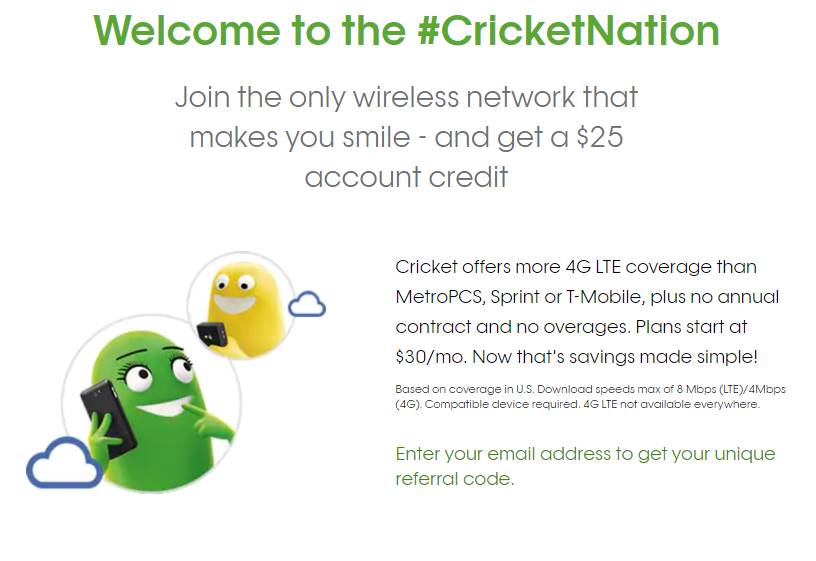 AT&T owned Cricket Wireless has discontinued its $25/month unlimited talk and text only plan.  The plan is no longer available for purchase through the company's website.
According to Cricket Wireless rep and vlogger Lady Red's Tech Reviews the plan was discontinued due to the arrival of smart flip phones at Cricket Wireless.
Cricket Wireless recently launched a new smart flip phone, the Alcatel SMARTFLIP for $49.99 on October 11.  However, the company still carriers one feature phone online, the Alcatel QUICKFLIP.  The Alcatel QUICKFLIP is available for $29.99 but likely won't be around for much longer given the SMARTFLIP's arrival and the discontinuation of the $25/month plan.  Those currently with Cricket Wireless on the $25 plan will be grandfathered into their plan.  However, customers *may* lose the plan if they upgrade to a new phone through Cricket.
Cricket Wireless Updates Referral Program
Besides the phone plan discontinuation, Cricket Wireless has made a change to its customer referral program.  Cricket Wireless's customer referral program offers current subscribers a $25 account credit for referring new subscribers.  New subscribers signing up through a referral link from a current subscriber also receive a $25 account credit.  A maximum of $250 in referral credits can be earned by a subscriber per calendar year.  The account credits get awarded to both parties after 60 days of active service by the new subscriber.
Cricket Wireless has decided to change how new subscribers claim a referral code and credit.  The change will make it just a little more difficult for some customers to take advantage of and claim a referral.  Under the old program, customers who clicked on a referral link were taken to a webpage where they had to input their email address.  Once submitted, the webpage reloaded and customers could instantly claim their referral credit via a link and code on the webpage.  The code was good for 30 days and could be used up to 10 times. Under the new system, when a customer clicks on a referral link they will still be taken to a webpage where they must submit their email address.  However, once they submit their email address, the customer must then wait for Cricket Wireless to send them an email with a referral code to use.  The claimed referral code can then only be used one time.
I believe the change to the referral program was implemented likely to try and prevent fraud.  However, it will also make it harder for some well-intentioned individuals to claim a code and it may even help Cricket Wireless to save some money on what should be legitimate referrals.  If a referral code email gets sent to someone's SPAM folder, or update or promotions or any other folder it may very well go unnoticed until it's too late to claim.  Referral codes must be claimed within 30 days or they expire.
---
---