Cricket Wireless Announces New Phone Insurance Plan, Cricket Protect Plus For $10/month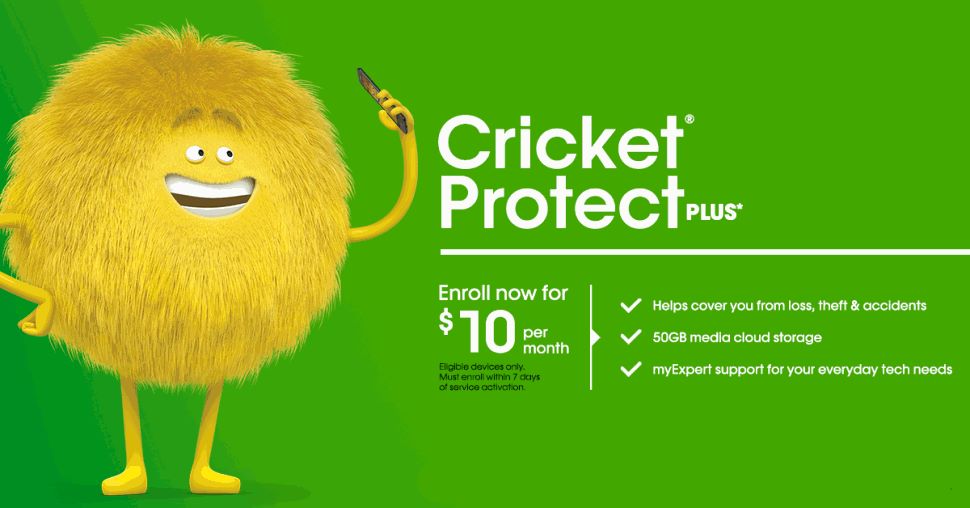 Cricket Wireless launched a new device protection plan today called Cricket Protect Plus.  The insurance plan will cost customers $10/month.  Cricket Protect Plus is a premium insurance upgrade over the company's Cricket Protect base insurance plan which is billed at a rate of $7/month.
Cricket Protect Plus Vs Cricket Protect, What Are The Differences?
The base $7/month Cricket Protect device insurance plan offers customers protection from the following:
Theft, loss, accidental or liquid damage, in-warranty exchanges and out of warranty mechanical or electrical malfunction.  Cricket will replace your lost, stolen or malfunctioning device with a new or refurbished phone that is the same model if available, or a comparable phone and model.
Cricket says that its device protection plans cover the phone, its battery, wall charger, and SIM card.
Those who need to have their device replaced for whatever reason will be subjected to a deductible in addition to the monthly rate of $7/month.  Deductibles range from $10 up to $250 per approved claim and depend on the phone model.  Only 2 claims can be filed within a consecutive 12 months period and a maximum of $1500 will be rewarded per claim.
Cricket Protect Plus Upgrade
For an extra $3/month Cricket Protect customers can upgrade to Cricket Protect Plus.  Cricket Protect Plus includes all the same basic features that Cricket Protect offers but adds the following extra benefits:
Personalized interactive tech support via chat or call through the myExpert app available on Android and iOS.  Support will assist customers with loading apps onto their phones, getting answers for device questions and personalized support for anything connected to the customer's phone such as smart home devices like security systems, thermostats, smart speakers and more.
Device protection plans are available to existing Cricket Wireless customers with phones purchased through Cricket and also to select bring your own device customers.  Customers are asked to visit their local Cricket Wireless store to take advantage of the offer.  Eligible devices must be enrolled within 7 days of service activation.
Editor's Take
Wireless providers are always searching for new ways to add to their bottom lines, and this is one such way for Cricket Wireless to do that. I'm not really sure the upgraded device protection plan offers much to the consumer, but the added features do put it in line with what is offered by some major carrier device protection plans.
Sprint's device protection plan is billed at either $15 or $19/month and also includes cloud storage although cloud storage is said to be unlimited as opposed to the 50GB limit that comes with Cricket.  Like Cricket's upgraded device protection plan, Sprint also includes interactive tech support for phones and anything connected to the phone such as smart home devices.
AT&T offers mostly the same basic features for its device protection plans.  There is an $8.99/month device protection plan available that is comparable in features to Cricket's $7/month Cricket Protect plan.   An upgraded insurance plan that cost $11.99/month from AT&T is comparable in features to Cricket's Cricket Protect Plus plan.
---
---