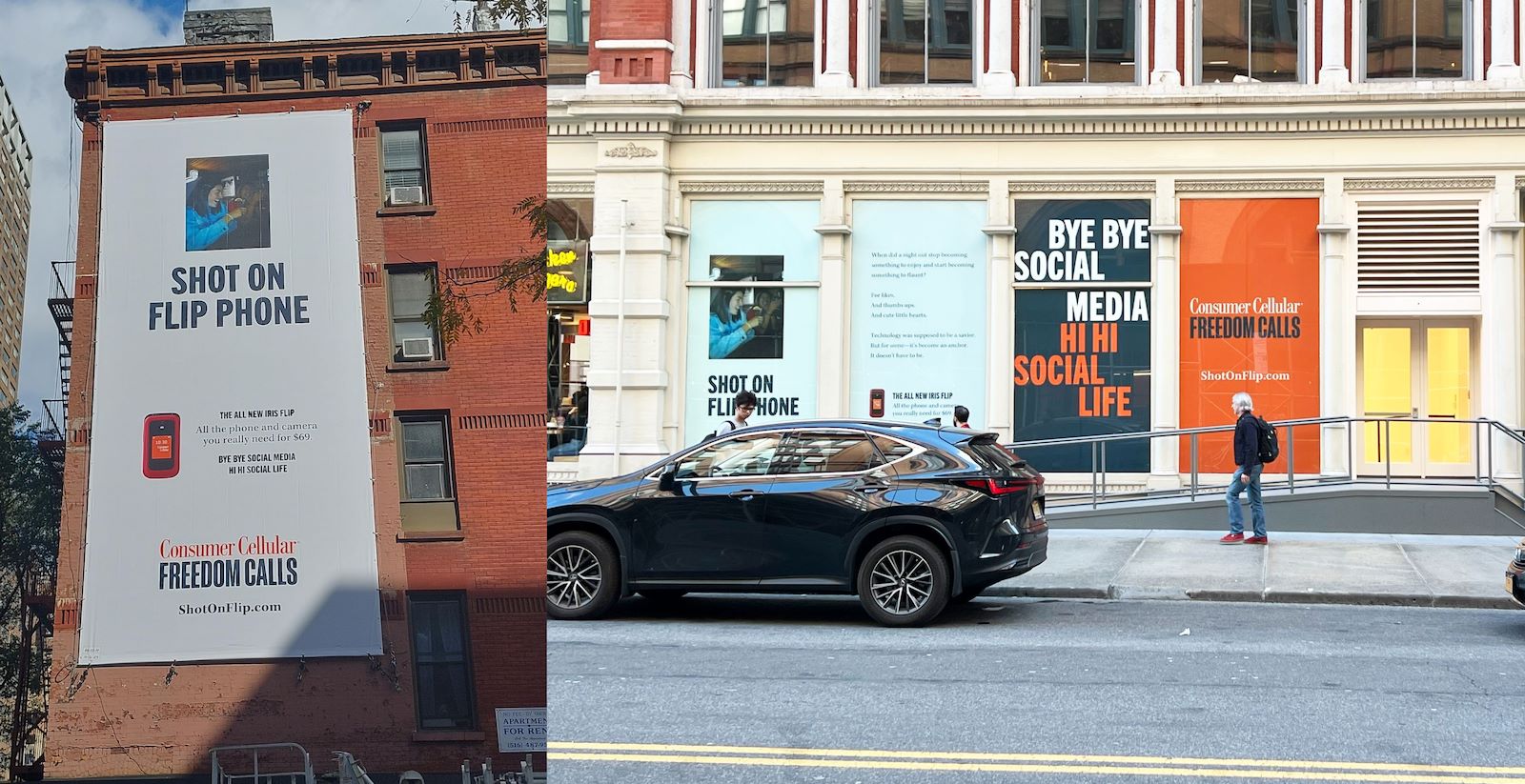 ---
Consumer Cellular recently launched an ad campaign that's surprisingly centered around a new flip phone from the brand, the $69 IRIS Flip. The campaign, "Shot on Flip Phone," is an extension of Consumer Cellular's Freedom Calls marketing campaign which launched earlier this year.
According to the latest prepaid report from the firm Wave7 Research, "Shot on Flip Phone" is targeting New York City area residents with "out-of-home advertisements across New York City including Times Square and Columbus Circle Subway Stations and at major cross streets," as well as "digital animation on Times Square billboards." Wave7 Research has no knowledge of the brand engaging in outdoor advertising previously. A press release from Consumer Cellular last month adds the campaign will also use "influencer content in digital and social channels." There's also a page on the Consumer Cellular website dedicated to the marketing campaign.
Be informed of the latest deals, plans and promotions from AT&T and every one of its MVNO's when you subscribe to the AT&T weekly newsletter. No spam and you can unsubscribe at any time!
"The inception of the 'Shot on Flip Phone' campaign came from the realization that our technology-driven world often encourages a culture of perfection, projection and and a continuous fear of missing out. Nowadays in social settings, the constant distractions and never-ending urge to document every moment tempt us to give a prominent spot on the table for our smart phones," said Craig Lister, Chief Marketing Officer at Consumer Cellular.
The company says its campaign is aimed at delivering a message of human connection and to help break through "notification fatigue." Consumer Cellular stated that through a survey it learned that both Boomers and Zoomers (Gen Z), are interested in basic flip phones for the same reasons, fewer distractions, ease of use, and to minimize tech dependency.
Consumer Cellular isn't the only company targeting minimalists. Last month, BestMVNO reported that Light launched its own MVNO plans, which like Consumer Cellular, use the AT&T network for coverage. Light, is also known for making the Light phone which isn't a smartphone, but rather a small rectangular shaped phone with a black and white screen. In the company's words it is designed "to be used as little as possible." At a price of $299, it is a rather expensive option to beat "notification fatigue," particularly when compared to Consumer Cellular's plans and $69 IRIS Flip.
According to Phoebe Bain, senior reporter for Adage, the "Shot on Flip Phone" campaign is a spoof of Apple's "Shot on iPhone" campaign at a fraction of the cost. Bain says Consumer Cellular only spent $250k to put it all together.
How much do you guys think Apple spent on its "Shot on iPhone" campaign? This wireless brand only spent ~$250k spoofing it with a "Shot on Flip Phone" campaign...https://t.co/PiGh5REmT9

— Phoebe Bain (@notnotphoebe) October 24, 2023
Despite a smaller budget for its 'Shot on Flip Phone' campaign, Consumer Cellular frequently invests in high-profile advertising, including regular TV and radio spots. The MVNO even has a celebrity spokesperson in Ted Danson who is featured in several ads released this year as part of the Freedom Calls campaign. Recently, Consumer Cellular launched a TV ad highlighting customer testimonials and offering a $50 account credit. However, BestMVNO is unaware of any "Shot on Flip Phone" TV or radio ads airing.
Jeff Moore, Principal of Wave7 Research, commented to BestMVNO; "Consumer Cellular may be focused on older Americans, but it is among the most energetic wireless brands. The carrier is now doing outdoor advertising and opening stores, having not long ago inked actor Ted Danson for advertising and having launched at many Walmart stores."
As Jeff Moore stated, Consumer Cellular has been busy this year opening stores. A total of 19 stores have opened, with 23 planned by the end of the year. BestMVNO reported Consumer Cellular's first store opened in September, 2022 in The Villages, Florida .
---
---