Consumer Cellular Offering $20 Credits For New Lines, Continues To Build Out Displays At Target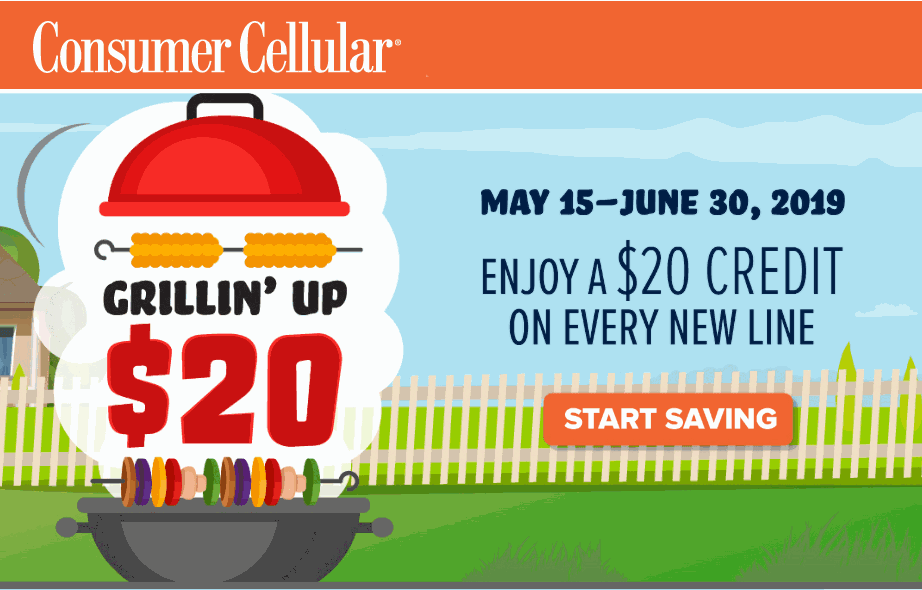 ---
Did you know BestMVNO is available to follow for free in Google News? Follow BestMVNO in your Google News app and keep up to date on wireless.
Follow BestMVNO In Google News
---
---
Consumer Cellular has launched a new promotional offer.  Customers who add a new line of service will now receive a $20 account credit for every new line that gets activated.
Offer Details
This offer launched on May 15th and is scheduled to last until June 30, 2019.  It is valid for both new and current customers.  New subscribers get a $20 account credit just for starting service, while current customers simply need to add a line to get the same benefit.  Current subscribers who add multiple lines will receive multiple account credits.
The $20 credits will automatically be applied to the customer's first invoice after activation of the new line of service.
Available Phone Plans
If you'd like to take advantage of this offer, you can do so by subscribing to any of Consumer Cellular's phone plans.  You have the choice of signing up for either a talk only plan or you can pair a talk plan with a data and texting package.  Pricing for the plans are as follows:
Talk Plans
There are two talk only plans available.
$15/month - 250 minutes
$20/month - unlimited minutes
Those subscribed to the $15/month tier that go over their allotment of minutes will automatically be bumped up to unlimited talk.
Connect Plans With Data And Unlimited Texting
$5/month - 250MB
$10/month - 2GB
$20/month - 5GB
$30/month - 10GB
$40/month - 20GB
Every Connect Plan includes unlimited texting.  Data only plans are not allowed and data is not unlimited.  Customers who go over their plans data limit will automatically be billed for the next higher data allotment.  Customers who go over the 20GB data allotment will automatically be billed an additional $5 for each extra GB of data consumed.  Data speeds may also be slowed once the 20GB threshold has been passed.  Customers who consume more than 30GB of data may have their data usage suspended until their next billing cycle begins.
Subscribers can add additional lines to their plan starting at a rate of $15/month.  Talk and data allotments from the primary line are shared with each additional line added.  Taxes and fees are extra and not included in any of the prices shown.
Consumer Cellular Fills Former Sprint Displays At Target With Phone And Tablet Display Models
Back in March, it was noted that Sprint was pulling out of Target retail stores, and the retail space left behind was being taken over by Consumer Cellular.
In a recent prepaid report sent out by Wave7 Research, the firm revealed that Consumer Cellular now has phone display models in place at Sprint's former display space at Target.  Also on display is the GrandPad tablet.  The GrandPad is a $200 tablet marketed at seniors and it is capable of connecting to Consumer Cellular's partner 4G LTE networks.  The company sells an unlimited data package for the device known as a "GrandPad Subscription" for $40/month.
According to Wave7 Research, the GrandPad appears to be selling well through Target.  Stock levels of the device are now up to 3-4 per store, compared to 1-2 per store in the fall of 2018.
The company also continues to spend on advertising and launched a new TV ad, shown below, that began airing on 4/17/19.
Consumer Cellular is a postpaid MVNO that operates on both the T-Mobile and AT&T networks.
---
Be sure to follow BestMVNO on Twitter for additional wireless coverage, deals, insights, and even debates!
Follow @BestMVNO Twitter
---
---