Boost Mobile Reenters Target, Launch At Best Buy Likely To Follow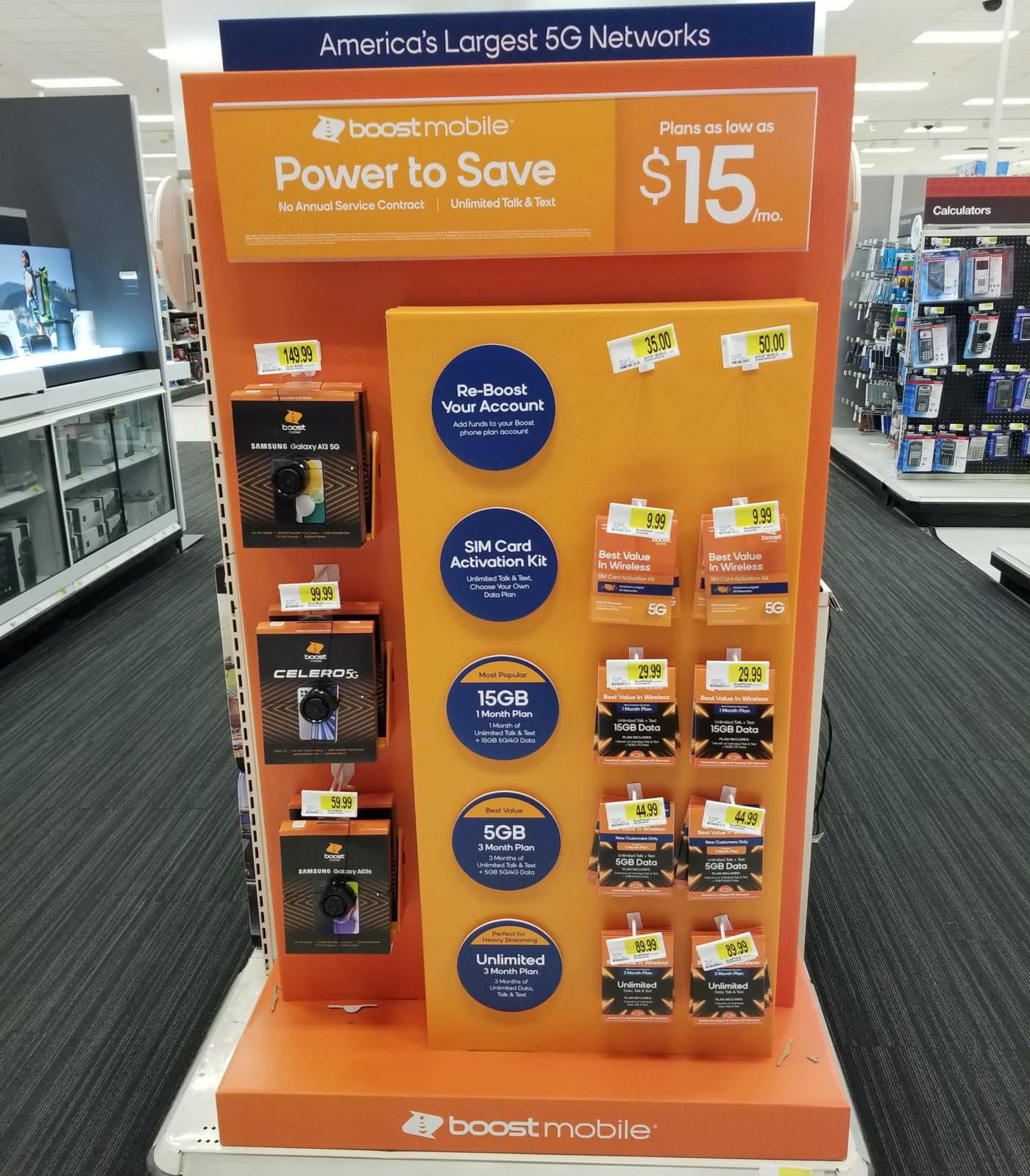 The years 2018 and 2019 marked a rough time for Boost Mobile in national retail. In the middle of 2018, Boost Mobile pulled out of Target stores as it stopped selling phones and SIMs there. It also exited from Dollar General that year. In early and mid-2019, Boost Mobile left Best Buy and Meijer leaving Walmart as the only national retail store where a customer could shop for a Boost Mobile phone and plan. Fast forward to today, under the ownership of the DISH Network, Boost Mobile is pulling a 180 on its national retail strategy.
In early May, Wave7 Research began to hear rumblings that Boost Mobile was returning to Target stores. The rumblings were confirmed to be true shortly thereafter when Wave7 Research and BestMVNO.com spotted large Boost Mobile endcaps in some Target stores. Boost Mobile's CEO Stephen Stokols also tweeted out that the endcaps were rolling out across Target stores during the month of May.
Rolling out across Target this month pic.twitter.com/0JFUY2qqzp

— stokols (@stokols) May 16, 2022

The endcap holds three Boost Mobile phones, the Samsung Galaxy A03s priced at $59.99, the Samsung Galaxy A13 5G priced at $149.99 and Boost's own branded Celero 5G priced at $99.99. These appear to be the only phones that will be carried in the store, at least at the store's initial launch. The three phones can also be found online at Target.
A Reentry Into Best Buy Is Highly Likely
Recently, Dennis Bournique of prepaidcompare.net shared three links with BestMVNO of the same three phones sold at Target being offered online at Best Buy. However, the online offerings appeared to have been accidental leaks of what is to come. Best Buy has since removed all the links and all references to each phone. However, Google search still has some of the phones cached in its site index. BestMVNO has been able to screenshot those indexes showing model numbers, SKUs, and prices of each phone's upcoming launch online at Best Buy. You can view some of the screenshots down below.
Since 2021, Boost Mobile has been selling SIM cards preloaded with airtime at Best Buy. A strategy of selling Boost phones online only at Best Buy seems unlikely given that the three phones that were just leaked online are the same ones now being sold at Target. The evidence seems to suggest an in-store Best Buy launch is likely to happen and probably soon. A source did confirm to Wave7 Research that more of a presence at the store is likely. A source also noted that Boost is in the process of hiring a team to help with its national retail ambitions.
"Until now, Boost Mobile only had phones sold at one national retailer, Walmart. Now, we're seeing Boost phones roll out at Target and more of a presence at Best Buy seems likely. More of a presence from Boost is a good thing, but I wonder what Dish Network is planning for postpaid competition more broadly." – Jeff Moore, Principal of Wave7 Research
Boost Mobile Has To Stop Bleeding Customers
Ever since DISH took over the Boost Mobile brand, it's been bleeding customers. DISH purchased Boost Mobile in July of 2020 and the brand had more than 9 million customers at that time. Earlier this month, DISH reported that it lost another 343,000 wireless subscribers in the first quarter of 2022. DISH's total wireless subscriber count now stands at 8.2 million and that number includes subscribers from Boost as well as DISH's other brands Republic Wireless, Gen Mobile, and Ting.
Republic Wireless and Ting each had about 200k customers at the time they were purchased by DISH. Gen Mobile had under 100k subscribers when it was picked up by DISH. Adding all the numbers up, DISH acquired over 9.5 million customers among all the brands it purchased. With the total sub count now at 8.2 million, calling a steep decline in subscribers may be an understatement. DISH is clearly looking to reverse these trends by having Boost Mobile reenter national retail.
---
---